A day out with Wanaka River Journeys
This was going to be more than just another jetboat ride. Ok, I'd read the brochure so naturally you have expectations. These small owner/operators are typically punctual and right on schedule Sue, co-owner of Wanaka River Journeys pulled up outside the Edgewater Hotel. We shared the van with some delightful Indians, one of whom thought I was the driver..hey, I was sitting in a passenger seat.. but she still thought I was the driver..bless her. Arrived at the wharf and kitted up with giant size raincoats, gloves and lifejackets. The overall effect – startling. Michael looked like a cross-dresser (not that there's anything wrong with that) and me, a plump little hobbit (now there's something definitely wrong with THAT!).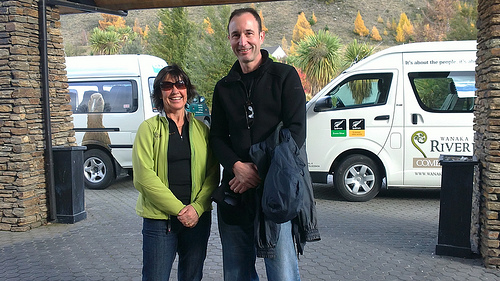 Here's where it gets really special. Brent the jetboat driver and co-owner, is Maori, so his commentary on the land is informative and from a Maori perspective. We started the journey with a 'karakia', a Maori prayer to our creator, and remembrance of ancestors. The engine roars into life and we're off, churning through the water at the rate of knots. Brent gives a pre-arranged signal and seconds later we have first 360 degree spin. Thrilling! (this is where it pays to use the toilet facilities b4 you go) After a few of these spins, I begin to experience a dull ache around my face. I've been grinning like a fool throughout the entire manoeuvre and can't seem to stop!
Even during the winter time the tour is on!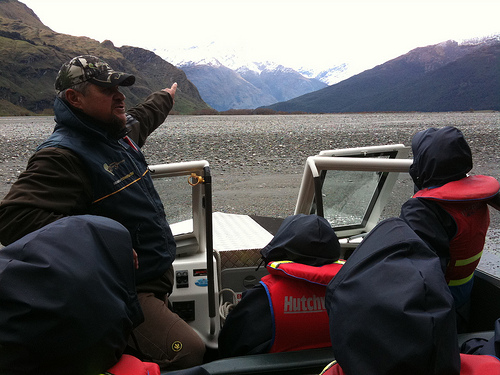 Special moment for me as I spy two beautiful black swans seemingly suspended in flight, their wings fanning the air in perfect unison. We stop in numerous places where Brent's passion for the land shines through his commentary and once again I am about how much more there is to learn about my own country. Unashamedly, I admit I love all things LOTR. And this is LOTR country, so another added bonus. Today the low-lying clouds gave the land a strong mystical feel..and at our next stop, ..all is quiet (not for long, our darling Indians are very chatty) Back at the wharf, Brent translates the karakia into english. Another great memory to store away.
Someone is a happy travellers in Wanaka…