Seems like we'll never learn the art of travelling light. It's 9.00am and we're setting off for our annual 10-day break, travelling the South Island route our FIT clients enjoy.  The car is groaning with everything except the kitchen sink and all I can think about is whether I closed the ranchslider of our bedroom. Brief lunch break in Murchison at the River Cafe (cheerful & comfy). Our visitors sometimes omit museum visits,  assuming they're all huge buildings and who has time?  Here's a little cutie that won't take much time at all.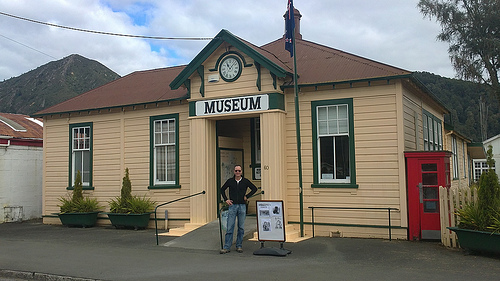 We're driving through some lovely country, mostly native bush and deep valley gorges with endless rivers. Here' s a couple of photos taken at the lookout celebrating the famous explorer, Thomas Brunner, who in 1847  travelled from Nelson to Paringa and back all within a modest 550 days!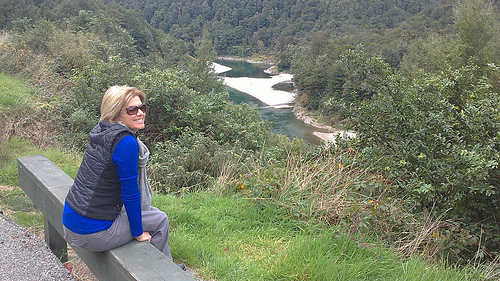 Photo Michael pointing out the bleeping obvious: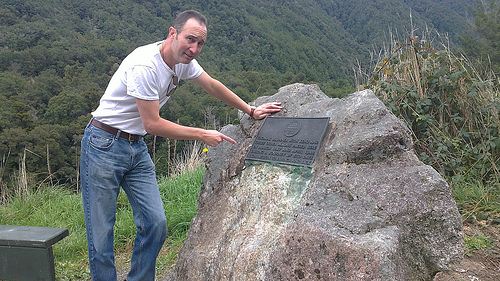 Before reaching Greymouth we stop for a 'breather' at the forever beautiful Punakaiki area.  It's late in the afternoon and the skies are heavy with cloud.  This place is stunning in full sun, but today it has a different beauty: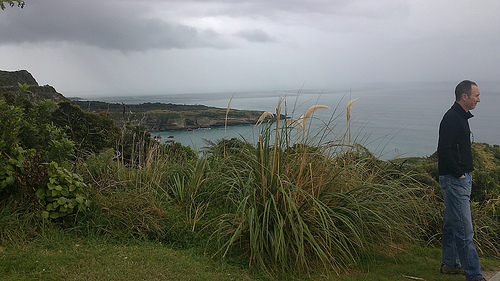 We're already noticing the change of temperature when we reach Hokitika.  We're chosen a variety of accommodation options throughout our trip –  from low to high end.  Tonight we're at the Beachfront Hotel in Hokitika, mainly for the unobstructed view and sound of the sea.  See what I mean: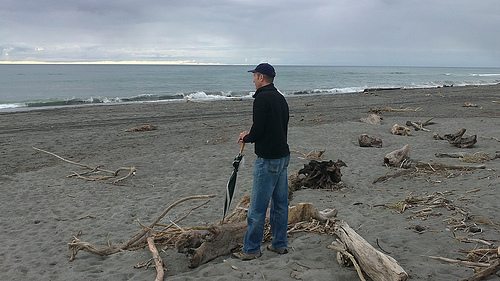 What came as a surprise to us was the quality of the food served at the Hotel's restaurant – beautifully cooked and with the crispest, freshest side salads – whitebait fritters just the way I like them – crammed with whitebait (high-end restaurants take note).   A horrified Manager looked on helplessly as our wee waitress  poured Michael a Waimea Vognier right up to the brim of the glass. She just kept on pouring. No complaint from us though.
New Zealand Autumns reward us with beautiful sunsets like this one taken just before I drew the curtains and settled down for the evening.  Nightie night folks.