Travelling between Rotorua and Taupo only covers 90 kms. There's plenty to see and do in-between. A key attraction is the geo-thermal activity derived from the tectonic movement of the Pacific and Indian earth plates. To the north is the "White Island" volcano in the Bay of Plenty. To the south, lies the Tongariro National Park with Mt. Ruapehu, Mt. Ngauruhoe and Mt. Tongariro. Plus the road along the Whanganui River.
Tectonic Zone between White Island and Tongariro NP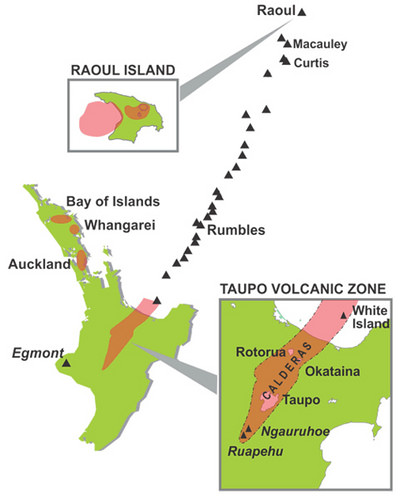 Travellers to these regions will get a once-in-a-lifetime opportunity for a close encounter with mother earth's youngest earth developments. Here are some of the key sights between Rotorua and Taupo:
Outside Rotorua Whakarewarewa or Te Puia
Whakarewara/ Te Puia lies just outside the central Rotorua township. This is one of the first early settlement locations for local Maori. The first fortification (Te Puia Pa) was erected around 1325 AD. Whakarewarewa has approx. 500 pools and at least 65 geyser vents. Seven geysers are currently active. Pohutu Geyser erupts to heights of up to 30 metres!
Waiotapu + Lady Knox Geyser
Waiotapu is located about 30 minutes drive (and 27 kilometres) south of Rotorua. Many of the hot springs in this area have a striking colourful appearance.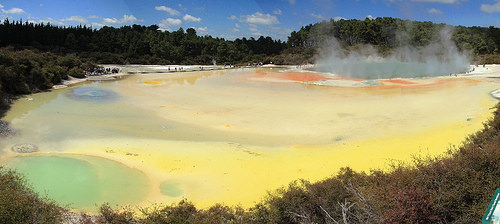 This geothermal area covers 18 square kilometres. It has been protected as a scenic reserve since 1931. An authorised tourist operation occupies under the name "Wai-O-Tapu Thermal Wonderland".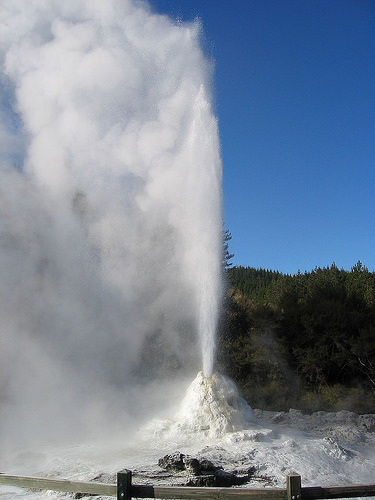 Handy hint for the Champagne Pool – Wai-o-tapu
At 10.15 am daily the Lady Knox Geyser is erupts 10-20 metres in height. Visitors can view this spectacular sight and learn more about it in a natural setting. If you're not interested in this "show", head to the nearby "Champagne Pool". You'll may get this one to yourself, as most tourists go to the Lady Knox show.

Waimangu Thermal Valley
Waimangu means 'black water' in Māori and encompasses Lake Rotomahana, the former site of the Pink and White Terraces. It also covers the location of the Waimangu Geyser. The area contains Frying Pan Lake, the largest hot spring in the world. Also here is the usually pale blue Inferno Crater Lake.
Travelling between Rotorua and Taupo – Orakei Korako
Orakei Korako is a highly active geothermal area known for its series of fault-stepped terraces. It is located in a valley north of Taupo on the banks of the Waikato River.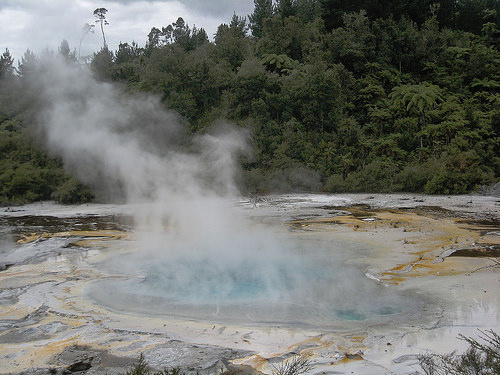 The lowest terrace at Orakei Korako is the jade-green Emerald Terrace, the largest of its kind in New Zealand. With up to 35 active geysers, Orakei Korako remains the largest geyser field in New Zealand. The most famous of these is the Diamond Geyser, whose random eruptions eject boiling water as high as nine metres.
Scenic flight with landing on White Island:
Sitting 48 km offshore, White Island (Whakāri) is New Zealand's most active cone volcano. About 70 percent of the volcano is under the sea, making this massive volcanic structure the largest in New Zealand. White Island became a private scenic reserve in 1953. Daily tours allow more than 10,000 people to visit every year. Take a helicopter flight ex Rotorua and do the return journey in 3 hours. GeoNet monitors volcanic activity and visits the island around 10 times a year.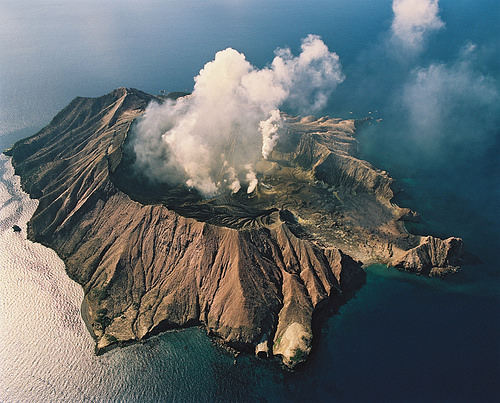 The best way to explore these natural wonders is to have your own vehicle. Start in the morning from Rotorua and work your way through to Taupo. Don't forget to visit Huka Falls, which feeds New Zealand largest river – Waikato River.
Happy travelling between Rotorua and Taupo!