Here we are posing beside a brand New BMW Mini Cooper S. Convertible and no, it does NOT belong to us!  The owners of THE SOUNDS RETREAT in Queen Charlotte Sounds, Anne and Tony Brooker, bought this vehicle for their guests to use. They're a young and very gorgeous couple with lovely personalities and great ideas.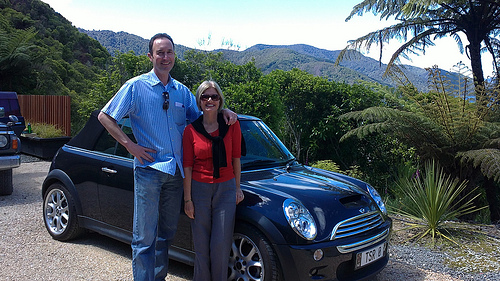 Anne and Tony have put their 20 years of working in Asia, to good use. They did extensive research before opening the retreat and hired some of the best professionals around to achieve their vision.  They've also tapped into a growing market of travellers wanting a more relaxed top-end accommodation – a place where you don't have to dress up and admire your reflection in the silverware (not that there's anything wrong with that). Guests have exclusive use of the retreat and should they require assistance, they have access to Anne and Tony who live on the property. Guests choose the level of interaction they wish to have with the hosts.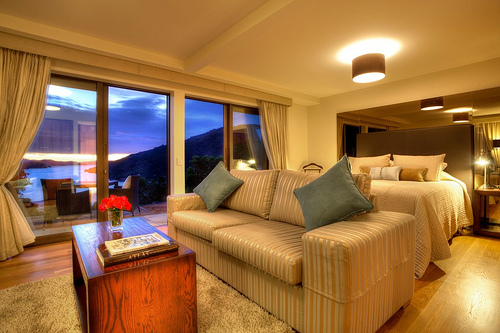 The suite is very large and has an 'apartment' feel about it.  The kingsize bed is surrounded by bronzed mirroring, giving a beautiful effect (bit hard to see in this photo).  The huge bathroom is separate from the suite and located across a private hallway, which makes sense to me, especially if romance ambience is the focus!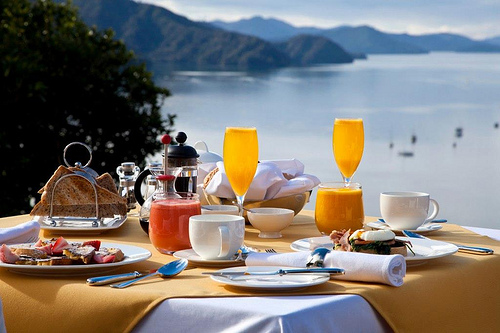 Anne and Tony have just completed remodelling the outside areas, where artfully placed garden features enchance an already private area. The Sounds Retreat is located at the head of Queen Charlotte Sound, a stunning area perfect for twosomes and with the BMW convertible at your disposal, it's a beautiful world to explore.