Chris Riley's handshake is a bone-crusher! Not surprising for a man whose lived an active life diving, sailing and trekking his way around the world. I'm about to take his Eco Tour experience, the only requirements being an average level of fitness and a love of nature. Easy. Last minute toilet stop for me (drives Michael insane "but you've only just been") and we're cutting through the waters of Lake Wanaka towards Mou Waho Island Nature Reserve. What's here in this beautiful wilderness? Absolutely nothing. Just native birds, bush and views that'll make you gasp. Another toilet stop (yes, I know – not that it's any of your business) and we begin our climb to the summit. Chris imparts his extensive knowledge of Mou Waho Island with enthusiasm and humour. Along with the enormous backpack containing our lunch, he also carries a baby native plant. Chris is a committed conservationist and on every eco tour he plants a native tree. Some of his customers specifically request that they be given this priviledge, to leave something of themselves behind or to commemorate a special family event. That's special.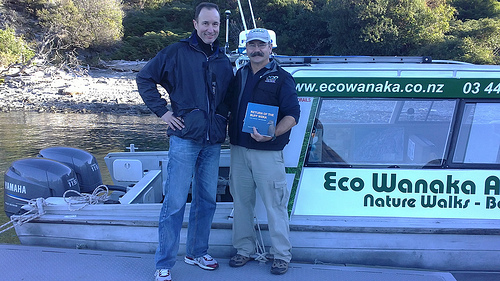 Hey, now I know the difference between a Manuka Tree and Kanuka Tree. I'm not telling. (hint: it's all in the the size of the balls) And as for those resourceful Maoris – how ingenious to use the fibrous part of the Lancewood plant for tattooing – a combined artist's tool & antiseptic. We reach the summit and silence – except for the pure notes of the bellbirds. I can't begin to describe the glistening jewel of sea that awaits us and the peace of my island paradise. Yes, just for this moment, it belongs to ME. We all have a sit on the comfortable armchair nature has provided (see photo where Michael took his sweet time giving it up for someone else to try) and all too soon we're making the descent back to base.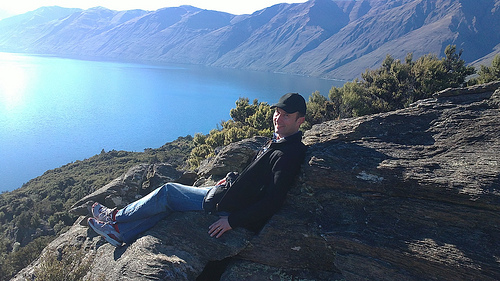 Chris plants the tree then unpacks our lunch at the picnic table (enough to feed a rugby team). Something funny happens. A cheeky and very curious Weka (flightless bird) decides to inspect our provisions. Up close. Charming, until it snatches a plastic bag out of a lunchbox and takes off with Chris in hot pursuit. Both disappear from view. After much sqawking (the Weka's pretty vocal too) Chris appears out of the bush waving the plastic bag triumphantly over his head. Weka-the-Pecker wasn't giving up without a fight. The tables are turned and now Chris is being chased. But the winner is Chris, doggedly determined that no rubbish be left behind on his island paradise in New Zealand. What a sweet journey it's been..sigh.