It's gonna be an whirlwind 4-day trip from Wellington to Auckland but we'll have enough time to stop and smell the roses…in this case, the Rhododendrons (more on that for Day 2). We collect our Thrifty New Zealand rental car at Wellington Airport, plug in the GPS and whizz through the Mt Victoria tunnel to the beautiful Kapiti Coast. We stop here briefly to warm our backs under the afternoon sun and enjoy the views to Kapiti Island, one of New Zealand's most precious birdlife sanctuarys. (We recommend a guided tour – you'll love it!)
Just 65 Kms out of Wellington, between Paraparaumu and Waikanae is the Southward Car Museum. Let me hasten to add, it's NOT just a guy thing.  This enormous private car collection is the largest in the southern Hemisphere. There are over 400 automobiles to view and just enough time for us to skim the surface. Look out for the "Nazi Car". It's monstrous and a chilling reminder of a horrible regime.
This is my fav…because of the colour of course!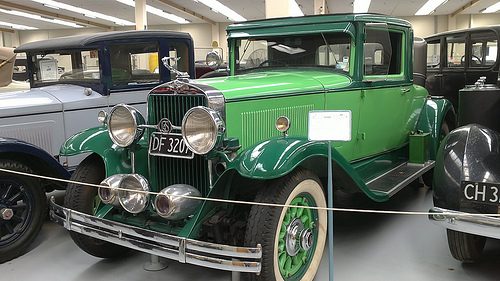 The sight of the 1969 Chevrolet Corvette has turned Michael into a drooling zombie – it's time to move on to Otaki.
Wow, for a lazy Sunday afternoon, Otaki is buzzing. The whole community seems to be out enjoying the Outdoor Otaki Market – another great foodie experience. Spices, wines and vegetables galore – it's all here and all local. We then pass through the sleepy main street of Levin to Patea. I'm disappointed the South Taranaki Museum at Patea is closed on a Sunday but I did come across this very cool Aotea Waka monument: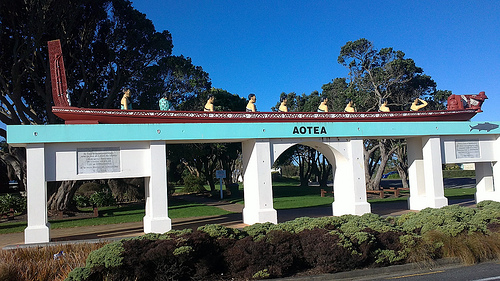 Not long after Patea, we pass the famous tramping area of the Tairua Ranges. Serious trampers need to be aware of the fickle weather this area is known for –  be prepared!
Not enough time to visit the Ohakea wing museum so we travel on to Whanganui, a city enhanced by the Whanganui River that flows through it.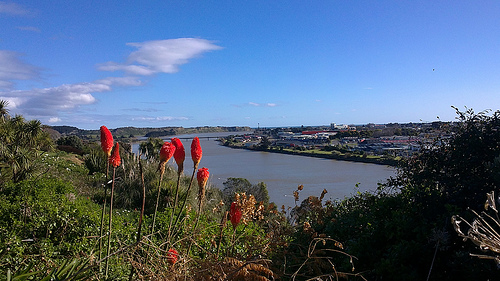 Whanganui has the fabulous Chronicle Glass Studio. Chronicle Glass Studio and gallery occupies part of a 1912 building that was originally home to the city's newspaper. We get to view the glassblowing process down at the pit then wander up to a mezzanine retail gallery – the glass art is stunning.
Gotta love the town centre with it's grand old historial buildings: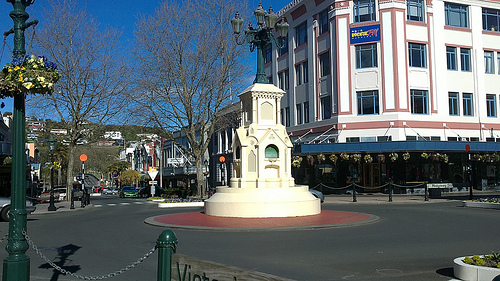 The people of Whanganui are enjoying a fast-growing cafe culture – bit of a welcomed change from our last visit. (By the way guys top accolades for keeping and restoring the good old red telephone boxes):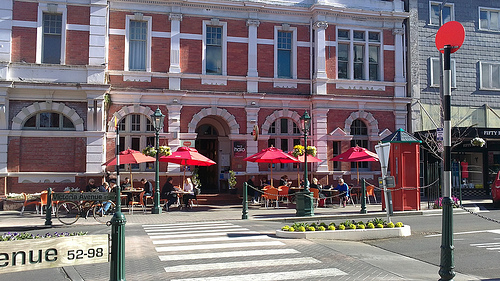 There's just enough time to head across City Bridge from downtown Whanganui to the Durie Hill elevator for a rattling good ride to scan the horizon for Mt Taranaki and Mt Ruapehu. Whanganui is moving ahead and so are we.  Next stop, the city of New Plymouth for a 2-night stay. Hidden and not-so-hidden 'gems' await us!