"So where are you guys from"? asks Rod of a young couple boarding the Dart River Safari bus. "Australia" they reply. "Darn, thought we might sneak through without you lot". Everyone laughs, including the Australians and that  sets the tone for this fantastic 3-hour journey of discovery.  Just 50 minutes from Queenstown is arguably the most beautiful area in New Zealand, Glenorchy.  This is where The first part of the Dart River Safari tour begins with a one hour bus ride through Lord of the Rings Territory.  With a little imagination, maybe I'll come across Aragorn or a dishy elf or two…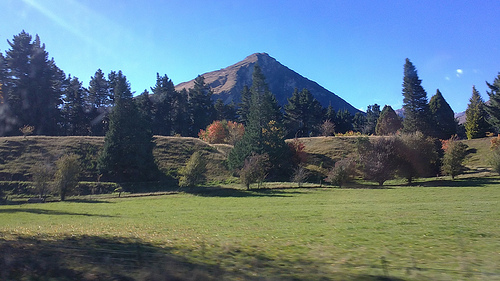 I'm literally gobsmacked by the scenery here. I'm overpowered by it and I now understand why film crews from all around the world come here to make their award winning films and commercials.  The film Narnia was shot here and in fact one of New Zealand's famous daughters', Jane Campion, will be commence her new film next week.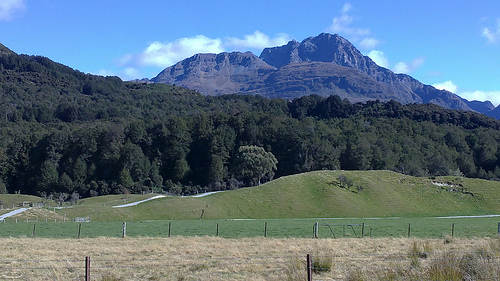 Rod stops the bus at the Arcadia Homestead and what a sad story this is ! The homestead was built by a idealistic young Englishman who leaving his Fiancee in the care of his father back in England (alarm bells are ringing).  He was overwhelmed by the beauty of the area, built this beautiful home then sent a letter to his father requesting that his Fiancee be sent to join him in New Zealand.  The father replied by return mail saying that he had married the son's Fiancee who was effectively now his son's stepmother. Cunning old fox!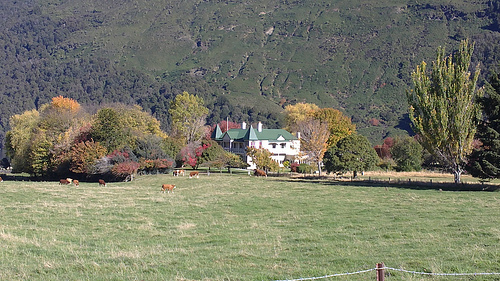 The second part of this journey involves a short bushwalk to the Dart River Safari jet boat.  Now a word of caution to visitors. On some outdoor tours on offer in New Zealand, there are NO toilets provided along the way, except the bush where you can discreetly disappear behind a bush.  Most people are ok with this but if you have a peanut-sized bladder, be prepared to have a closer look at the plant life, ok.
We've enjoyed the bushwalk cos good old Rod is a seasoned performer and makes it interesting without drawing out for too long.  He's a funny guy and entertaining.  We're given fleecy-lined waterproof coats with zips and velcro to keep us warm.  All abroad and we've off – well, not quite. Bill, our driver, requires audience participation. The gravel from the shallow water needs to be ejected before we get full acceleration.  We all stand and lean forward in a half bow – lots of laughter all round.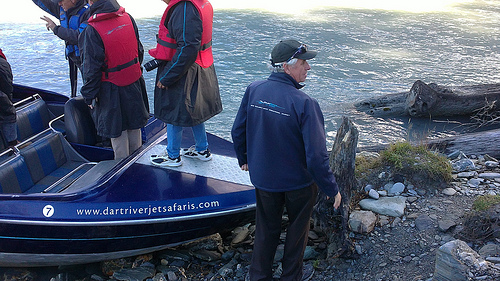 The Hamilton Jet engine ejects the stones, we all sit down and now it's hang on to your hats folks, let the adrenaline rush begin.  We travel up and down the dart river and with Bill stopping in strategic places to explain a little of the area.  This is a total ' buzz'. Our comfort has been provided by the heated rails to keep our hands toasty warm.
These are are some of the up front and personal views from the boat: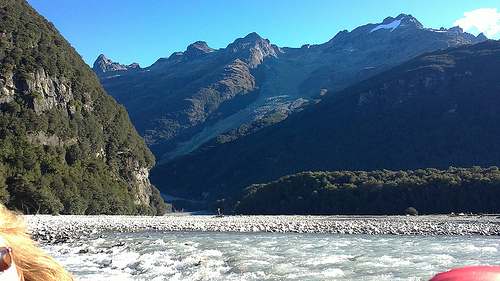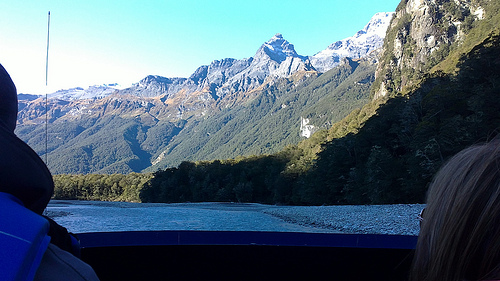 This tour is further enhanced by perfect weather and boy, we've been lucky today.  Loved this tour and great value for money with a variety of experiences.  Of course the scenery speaks for itself. After disembarking at the Glenorchy Wharf, we were driven by bus  back to the depot just five minutes away.  Boy, it'll be sweet dreams tonight –  Hopefully 'Aragorn' will  feature in at least one them.