Recently, we took a 2-day break at Azur Lodge Queenstown, one of New Zealand's top-end lodges. Michael and I were celebrating a significant wedding anniversary and needed a secluded hideaway. I was relieved to find the gated entrance to Azur so quickly without having to compromise my wedding vows. As we drove through a gentle winding private road to the lodge carpark,  Gavin Swan, who helps to manage Azur, ran to meet us (well, more of a fast trot really). From that moment, every wish was granted – self-indulgence is encouraged here. There are 9 freestanding villas at Azur and this was ours for 2 nights -seventy five sqm of space – yay! :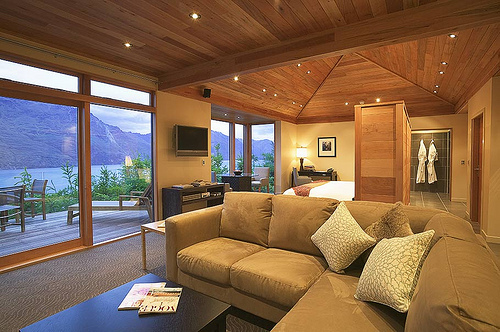 The only down side of top-end lodges is they're usually high tech. Gavin delivered a detailed orientation of our villa and this was deeply appreciated, given that fact that it took me 2 days to get acquainted with the lighting options. Thankfully, it only took 5 mins to sniff out the culinary treats. The trick is paying attention and not being distracted by the spectucular views. The villa's guest compendium is practically a book, but first I needed to check out the bathroom, leaving the boss to contemplate the coming season: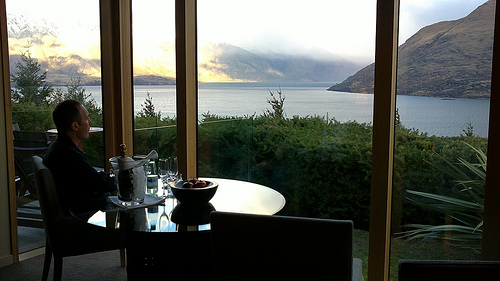 Wow, the bathroom's huge with 'his' and hers' vanity. Now talking about bathrobes is kinda boring but the ones at Azur do require a special mention. They're made of the most luxurious silky fabric which drapes the body down to the ankles. Michael wants to take a photo of me in the bath. I try to look as sexy as hell, only to be told that I'm looking as "pink as a wee pig."  That's the last time I'll play the tart for you Michael Nees!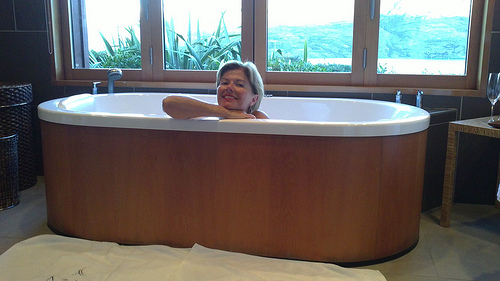 Azur does NOT have a formal communal dinner surely that's an advantage. Isn't it better to have a choice? We can either eat out or have "in Villa Dining"  Just consult that marvellous compendium where you'll find a selection of menus from around 10 different recommended downtown Queenstown restaurants. Make a selection, Azur staff will place the order and deliver the dinner to your villa whenever you like.  How cool is that!  All food is transferred to Azur's own gorgeous bone china before being delivered to your villa, where the staff will set the table, light the candles and pour the wine.  Of course they draw the line at eating the food for you.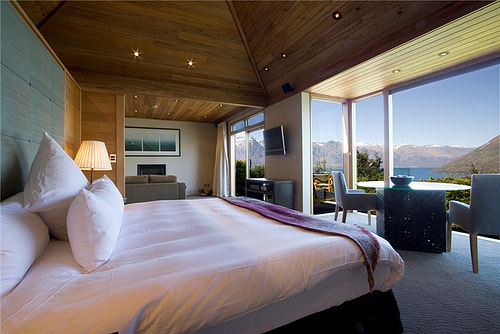 There's an absence of 'others' here.  Sure, you know there are other guests staying, but you don't really get to see them unless you're passing them at the carpark or along the driveway. No helicopters swooping down to drop off or collect guests and (big-sigh-of-relief), no small chat at breakfast if you don't feel like it, cos you can have breakfast delivered to your villa. Azur Lodge is not a gilded cage nor does it have a famous executive chef (although the beautiful Maria would give them all a run for their money). It's understated and styly with discreet staff and as much seclusion as you desire.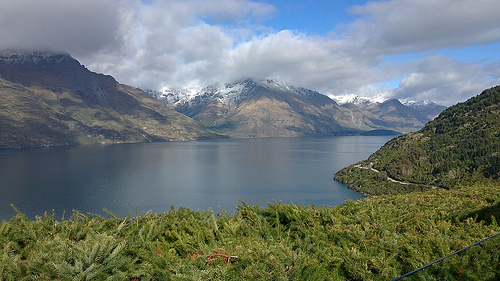 View other travel blogs on the Queenstown region:
Happy Travelling!