Be warned. the Ziptrek tour is only accessible via Gondola, for which you must pay the Gondola Company a 2-way ticket ) even though you're only using the gondala 1-way). The Ziptrek Company along with the others sharing the site, are working hard to have this policy changed. But please don't let that put you off or you'll miss the thrill of a lifetime. Actually the trip up the gondola is very smooth. Here's Michael…um.. enjoying the spectacular views (forgot about his fear of heights).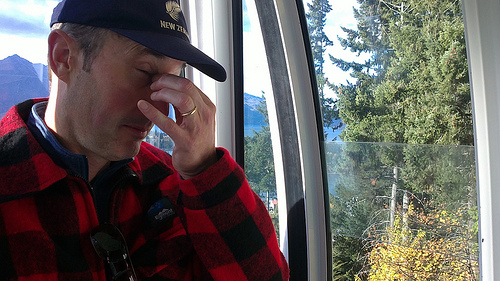 So what's it all about? The Ziptrek Kea Tour involves 6 differently graded Flying Foxes plus a 20 min walk.  I'm relieved that it's broken down (poor choice of words folks) into 6 different flying foxes with varying speeds and lengths. Good intro to the longer and faster ones to come.  The staircase beckons..gulp…I'm not mentally prepared despite the great orientation. The staff are young, fit and goodlooking. Tom, a cheerful Brit, helps me get the safety harness up pass my bum (don't mind if Tom's helping, right?).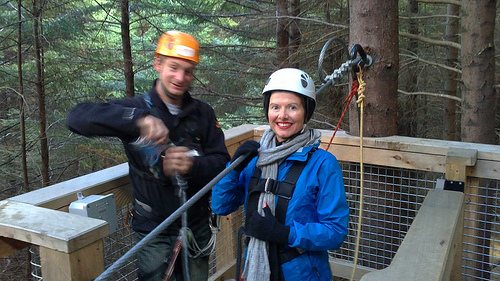 ..yeah, I know, it's a bit of a forced smile. The first flying fox is the easiest, but the hardest in which to overcome your fear. Taking those last three steps off the platform is an act of faith –  but I have no intention of looking back.  I breathe deeply to accommodate the sudden rush of air into my lungs and suddenly I'm suspended in a moment of sheer joy. The valley echoes to my happy squeals.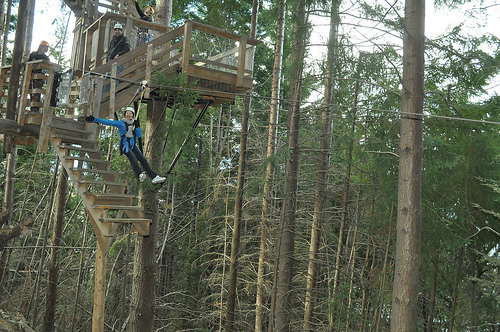 Sometimes you get to bond really well in a small tour group and today we're struck gold. It's jokes all around and we encourage each other. The tour guides are loving it.We're ziptreking with some lovely ladies from the USA with very strong southern accents.  The word "hang" sounds like "hi-ang". Like me, they were apprehrension at first but after the first experience, they're hungry for more. One of them, a spritely 70-year old, accepts a challenge to "hi-ang" upsidedown all the way on this one: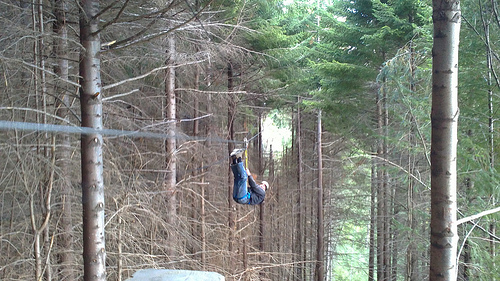 About three-quarters of the way through, the guides give a brief chat about sustainability, keeping it short and to the point. It's just enough information to retain and achieves a good balance to the tour.  I Won't forget the kindness of the wee Asian lady who helped one of our party down a steep part of the track. Nor will I forget the Americans who look forward to the response of their children and grandchildren when they see the photos on facebook. Look at how we laughed at our fears: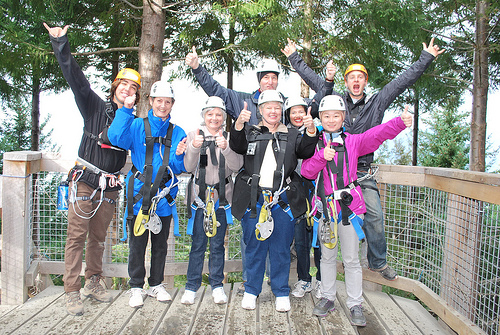 View other travel blogs on the Queenstown region:
Happy Travelling!