What a glorious sunny day to take the scenic route from Wanaka to Christchurch – taking the scenic route. Took a last walk along Lake Wanaka and then began the 6-hour drive back home. First stop, Tarras. Wow, the Tarras Woolshop has added a great extension at the back of the shop for fashion and artisan food. This is a wonderful place to find pure Merino designer products for all the family. We really like the vibe of the General Store next door. The staff here seem to be specifically chosen for their rural town friendliness. Buying specialised food is easy, because these ladies often come from farming backgrounds. They have the knowledge and are usually expert cooks themselves.  Check out this sample South Island itinerary.
But there's more down an alleyway between the General Store and Tarras Woolshop, the SHREK MUSEUM! Shrek was a Merino Ram, now deceased, that once sported the largest pelt ever recorded in New Zealand. There is this little museum honouring Shrek. The pelt on display is enormous and definitely worth a look.
We drove on towards Omarama and stopped at the Wrinkly Rams Cafe/Bar. There was a strange energy in this place, but the coffee was good and I enjoyed my stuffed potato. Driving on, the sight of the majestic Mt Cook stopped all conversation for a while. The sight of harriers catching the wind currents complete a picture perfect moment. Our next stop was the lovely little rural town of Geraldine. Geraldine is the rural business centre for the area and home to the iconic Barkers shop, famous for it's jams and chutneys. I hope the museum is still there on our next trip – it really is a great little find. There are enormous historical photos on display. Bbut what captured my eye was the display of clothing  from the early settlors right through to the 1920's. Visitors are encouraged to use the massive old telephone switchboard. The locals have done us proud with this hidden gem.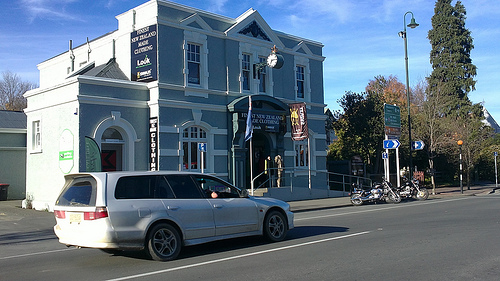 You may also want to check out this sample South Island itinerary.
Happy Travelling!