The Waitomo Caves tour options are located in the central North Island, 3 hours south of Auckland and 2 hours west of Rotorua. To save time, its best to travel ex Auckland via Waitomo to Rotorua.
The Classic Waitomo Caves tour options
A lot of international travellers choose the 45 minute guided Waitomo Glowworm Caves tour. Although the groups are larger, its the ideal 'taster'. (The 'Aranui' cave can be added to this tour as a combo option.)
A major highlight is seeing the unique Glowworms (Arachnocampa luminosa) Thousands of these tiny creatures radiate luminescent light to create a starlit galaxy. Guides provide an informative commentary and a Boat Ride is included. Mother Nature's light display surrounds the boat as it glides silently along, creating a sense of serenity you'll never forget.
Ruakuri Cave Guided tour Waitomo
The 2-hour Ruakuri Cave tour is totally different to the Classic Waitomo Caves tour options. With a maximum of 18 people, there's greater interaction with the guide. The Ruakuri Caves has full wheelchair and pushchair access. This cave offers a blend of Waitomo's subterranean highlights including a spectacular spiral entrance, limestone formations and crystal tapestries. You'll also get up close to glowworms.
Ruakuri Cave is New Zealand's longest guided underground walking tour and an experience that must be seen to be believed. Visitors are awed by the sheer majesty of nature.
Black Water Rafting Waitomo
This is the original Waitomo subterranean adventure and was introduced in the mid-1980's by dedicated local cavers as "Black Water Rafting". There are now a number of tour options with two different companies. Waitomo Discoveries (with the 'Black Labyrinth' trip) and Waitomo Adventures (with the 'TumuTumu' tour).
Both trips take around 3 hours. Neopren wetsuits and helmets are provided. Be warned, you will get wet! The journey ends when you emerge into the sunlight of the Waitomo forest.
Lost World Abseiling caving tour Waitomo
This caving tour is perfect for travellers seeking more of an 'expedition'. It can be done as a 4 hour or 7 hour trip. It is not suitable if you have a fear of heights! For the 7 hour Lost World trip, you'll need to stay in the area at least overnight. Here are some accommodation options.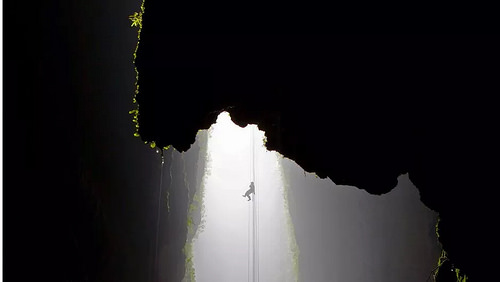 Although the tour is intended for complete novices, a moderate fitness level and an adventurous spirit is required. Other caving options are Haggas Hokking Holes, St. Benedict's Caverns.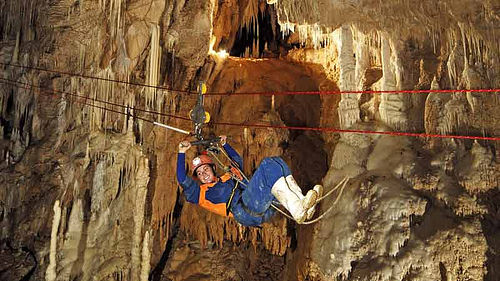 Other notes on Waitomo Caves region
This region is a real 'treasure box' full of goodies. Forest Walks and hikes, Lord of the Rings, Hobbiton and surfing at Raglan, are all very close by. So consider staying 2-3 nights to really experience the Waitomo Caves region in-depth. What to do in Waitomo.
Happy travelling!