Wow, the ferry across to Waiheke is fast but what a pleasant ride and before you know it, we're arrived. So nice to be met at the wharf by Breakfast-on-the-Beach Lodge owner, Keith, and not having to muck around with taxis. After introductions, Michael promptly walks to the wrong car. Keith points to his lefthand drive Chrysler Convertible and Michael plonks himself in the driver's seat. We're making a great first impression! It's a beautiful winter's day on Waiheke Island, so Keith drops us off at the village to have a look around, while he drops our bags at the lodge. Let's try something different for lunch and eat at 'Delight', a lovely wee Turkish cafe. The waitress is a sweetie and recommends a delicious piece of carrot cake to finish. The boys in the kitchen look a bit grim, but the food's tasty and the coffee's DIVINE!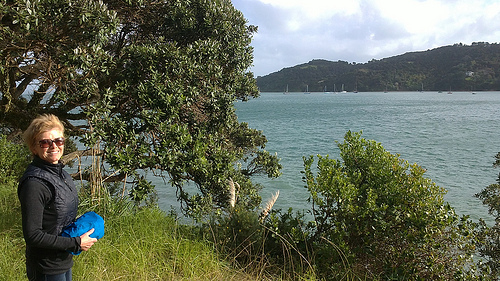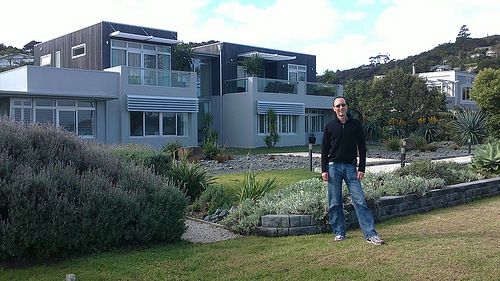 What a wonderful evening! First we joined our hosts for 'drinks & nibbles' although I concede that Waiheke wines and blinis with salmon, probably demand a better description. Breakfast-on-the-Beach Lodge is an architectural statement and co-owner, Marilyn, has dressed the interiors in pristine white and sea blues, in fact all the colours of the Paua shell. The interiors are particularly gorgeous at night.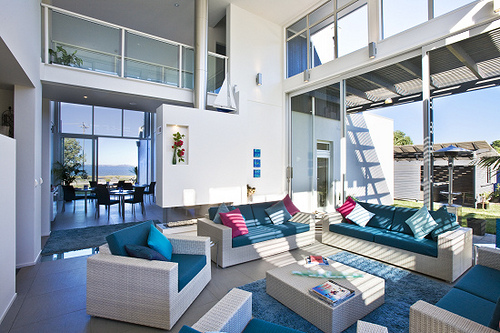 We're dining at a very special place tonight. Thymes Table is a very unique restaurant on the island. Ok, the choice is limited, with one entree, main and three desserts to choose from. I'm out of my comfort zone and entree is squid..um, never eaten THAT before. Big surprise! Those little finger shaped, squid-wrapped morsels wrapped in spicy pastry and deep-fried are great. The main course is pork (another challenge for me). All the flavours work and the Spanish wine suggested for the main course was perfecto. Much of the decor is painted in Fishtail green. Yes, that's what it said on the paintpot, according to the Sanne, our maître d' and doncha just love those cylindrical lampshades hanging from the ceiling?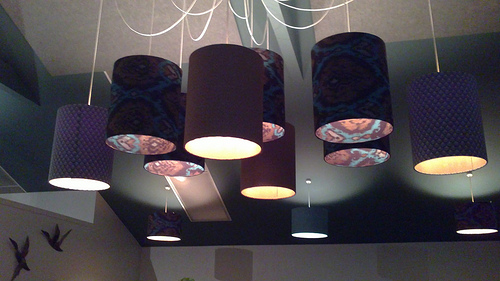 We're back at the lodge. The bed's been turned down and there's a beautiful glass decanter of port waiting for us with chocolates to accompany our descent into decadence. WILL THIS HELL NEVER END!!