Travelling New Zealand with children is becoming more popular
Sometimes we get frantic calls from parents wanting to change an inspirational itinerary because "mountains are so boring". OR a beautiful guided nature walk needs to be cancelled cos the playstation beckons.  Ok, it's not our place to say how others should raise their children. It's WE who need to adapt to changing family dynamics.  Here's a few suggestions for travelling families where EVERYONE gets a great vacation:
New Zealand offers lots of activities for children
How about Sea Kayaking tour for Children  in the Coromandel area. Cathedral Cove Kayaks are extremely stable and to allow children to safely enjoy their kayaking experience with an adult paddling right behind them.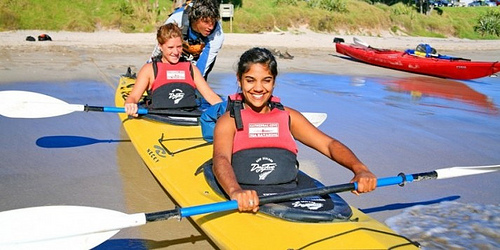 Recently, we came up with a great option for a family of six.  The adults wanted to do a wine tour – understandably the kids rebelled. So the adults got their wine tour and the kids went on a 4-wheel trike adventure tour near Queenstown. One adult from the party chose to go with them to supervise, however if your kids are old enough, you can sign a waiver and put them under the care of the trike guide.  OR the whole family can achieve some bonding time by doing it together.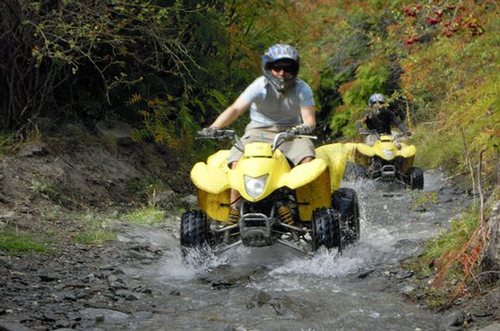 Popular tours for Children and Adults
For a bit of magic, the "Hobbiton" Lord of the Rings Tour near Matamata (North Island) combines fantasy with spectacular scenic beauty so popular with overseas filmmakers.  And as the Hobbiton Movie Set is located on a real New Zealand farm, everyone gets to cuddle and bottle feed the pet lambs.
Kids love a farm tour.  In New Zealand we have farm station tours where the kids (and the adults) get to experience a huge working farm by interacting with the animals e.g. feeding the sheep and bambis (small deer). And an absolute highlight is a working dog in action -fascinating.  Having done it myself, I thoroughly recommend the Walter Peak Farm Tour across from Queenstown. Would you mind if your kid got to meet this big guy?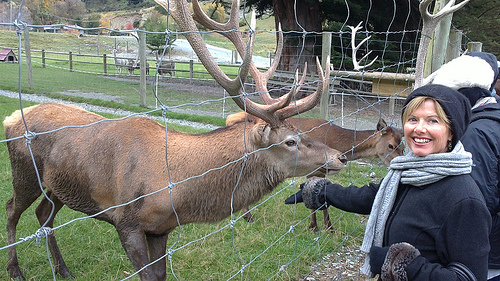 Think by having kids, you've struck gold? Hmm, you must be thinking about goldpanning.  There are a few places you can do this – Central Otago and Shantytown near Greymouth, and it's safe, in a controlled environment and the guides are 'locals' with the inside knowledge of the area.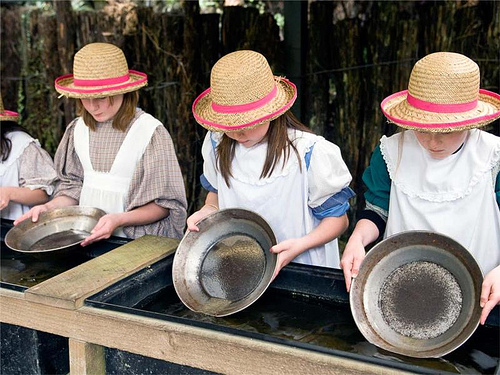 Educational Tours for Children
Explore your child's creative edge with Maori Flaxweaving. Under expert guidance they'll create something precious to take back home to show their friends and  plus, they'll gain a cultural experience. Want something relating to nature and New Zealand conservation – here's an Eco-Tour near Wanaka where everyone is given the opportunity to plant their very own tree on beautiful Waho Island – an untouched paradise.  A short 15 minute walk with frequent stops, planting a tree on the way and having a lot of laughs with this cool dude!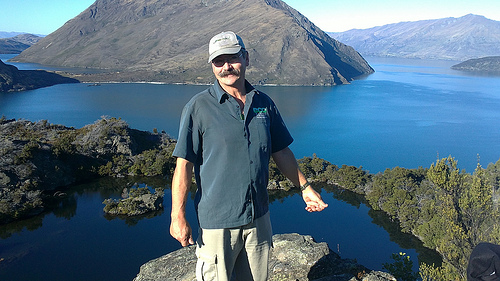 Just a few suggestions folks – there's plenty more to be had. Some sample travel itineraries to get you started…
Happy Travelling for Children & Adults!