With the minimum of domestic conflict, Michael and I set off for Akaroa packed to the 'gunnels' with clothing for all seasons (you have to in this country – you can experience 4 seasons in the one day and no…neither of us have mastered the art of travelling light) – stopped briefly at the Little River Café/Art Gallery (fabulous food and coffee). Briefly lost Michael on the way back to the car, who has this habit of instantly materialising from one place to another in seconds!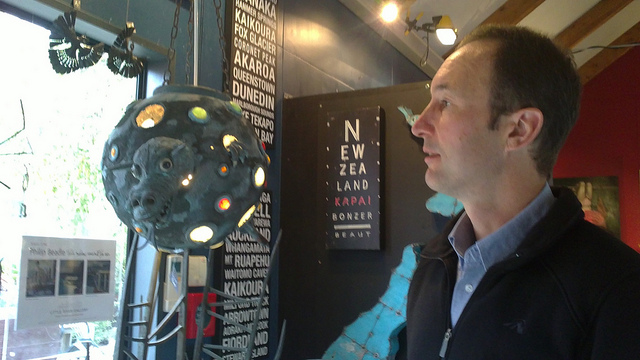 Stopped at The Giant's House in Akaroa and although it was wet, I have to say the garden positively sang to us! I think it must be the French music playing for the benefit of visitors that allows this magnificent garden to flourish. And what an achingly gorgeous garden – has to be a mammoth task for just one person to maintain. Josie Martin, the owner is an accomplished artist and sculptor. She has purple hair and I think that's important for what I'm going to say next. Josie's giant mosaic sculptures are organic with a fantasy element to them. After walking around the property twice, we still couldn't do it justice. Admittedly I tend to remember the perverse, but the glass nipples should also be noted as should be public toilet that my opinion, is another work of art – this attraction is well worth the $20 entrance fee. You have to see it – now promise me!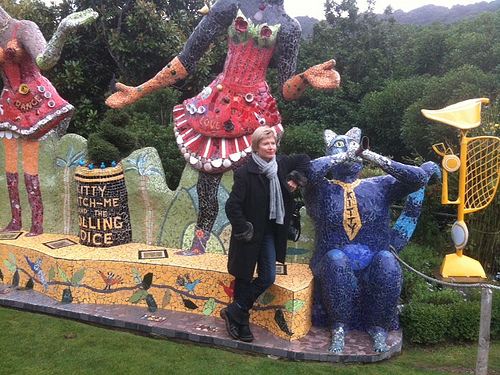 We'd finally reached the stage, as we do at this time every year, when we wanted to treat ourselves to a premium experience – someone to take care of us! So we're driving up the incline drive to Maison de la Mer and note our names have been written on the 'Welcome' blackboard (isn't it lovely to be expected) and yep, there were the owners, Bruce & Carol Hyland ready to greet us. What a beeoootiful property! It looks fabulous on the website but even more scrumptious in reality. Elegant, French , beautiful displays of china and antiques in this petite lodge….love that word 'petite. It was lovely to enter our warm suite and hear soothing music being played on the stereo – to see my favourite long stemmed white roses, reclining in a vase by the bedside. Since September last year and (you know the date) our nerves have been a little jangled. Carol will never know how much those white roses mean to me!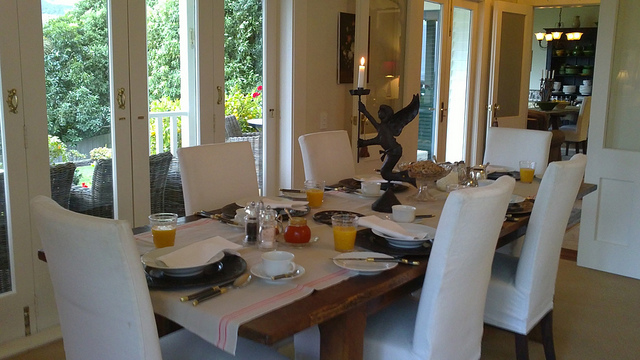 We're really enjoying the other two couples staying here and is not a chore to spend an hour in the evening chatting over drinks and nibbles – Well "nibbles" doesn't exactly describe it – think weeping blue vein cheese, figs, homemade guacamole dip, wafer thin cheese rounds still warm from the oven. Enough! Ok, not quite. The breakfasts are an event – served on a long French oak table laden with unusual, but tasteful cutlery and plates, a tall candle flickering in the centrepiece. Enough! – I need to tell you about the two different dining experiences we'll be having at Fangiornis and the Little Bistro, but here's some more of Maison de la Mer.