Woke up to a very quiet neighbourhood. There's usually a few sore heads after a General Election and hoarse throats from either celebration or uncontrolled weeping. Anyway it's a gorgeous day – time to make use of another cycling track in the area. What glorious ride it is, with the salt air in my face and not a breath of wind (I was cycling ahead of Michael). We're so lucky to have a fantastic network of cycleways throughout New Zealand. Here's me in very flattering bike pants & thank you for your kind comments.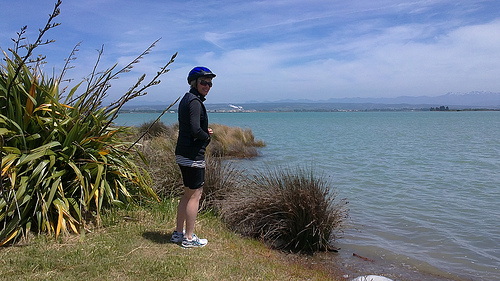 It's the stuff along the way that's always interesting – an abundance of flax and birdlife – Paradise Ducks lying very protectively next to their mates. Ain't love grand! Speaking of mates, I can see mine pedalling out of sight. For some reason he's taking the long way – 24kms isn't that much but the day has just begun. But no, here's his Lordship sitting on a park bench getting ready for his 'closeup'.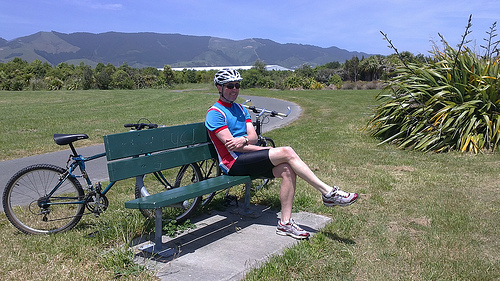 There'a a homeshow on at the moment. Michael's forgotten the bike locks and I'm sure he's done this deliberately – he hates homeshows. We hide the bikes under some trees, pay the entry fee and head in After 10 minutes Michael's craving a caffeine fix. How very convenient! We head into the city and order a magnficient latte. We sit under an orange umbrella and bask in the fresh summer air. A lovely American woman offers to take our photo and we reciprocate. A fellow Kiwi strikes up a conversation, considering it his civic duty to provide a running commentary on our country's attractions. Can you not let this poor woman drink her coffee in peace! He's still droning on as we gather up our bikes and head off for the 12kms home. Well, that was our day in paradise folks!