Showing a rare display of initiative, I'm packing a lunch for our trip to St Arnaud. Today's the day I'm gonna breathe fresh mountain air and be dazzled by the beauty of Lake Rotoiti. St Arnaud's is a nature experience – still off the beaten track for a lot of people. Visitors still choose the 'brand name' places on the brochures and then discover that a hundred thousand people have exactly the same idea. St Arnaud is only an hour's drive and 90kms from Nelson and although it has a very good system of challenging walks, today we're doing the easy lakeside walks. This place is seriously gorgeous with carpeted hills on both sides and snow-capped mountains in the middle. At this time of year, there's hardly anyone around and that's the way we like it. No need to be queasy about the isolation folks, There's cellphone coverage and basic amenities available in the village.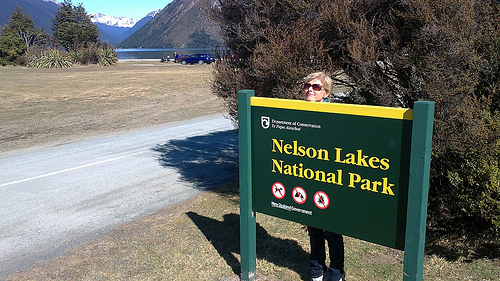 We're taking the loop walk around the lake and through the forest and Michael slips quickly into Tour Guide mode, (something he left over 20 years ago). "Smell this" he says. I know I shouldn't. I should be ready for his tricks, but as usual, I see the hole and jump right in. My inner voice is saying "wise-up Pam – you know how this is gonna end. I smell it. It's foul!! I've just been conned into sniffing Stinkwood. Thankfully I'm quickly distracted by the joyful notes of Tuis as they effortlessly reach the high c's. Michael draws my attention to the tiny cotton-like threads protruding from a large Beech Tree. Looking closely I can see tiny drops of honeydew on the ends – this is a great source of nutrients for the birds and wasps. Beware, St Arnaud is sandfly territory, especially in summer with lots of beach and running water to satisfy even the most discerning sandfly. That's ok..if you're prepared.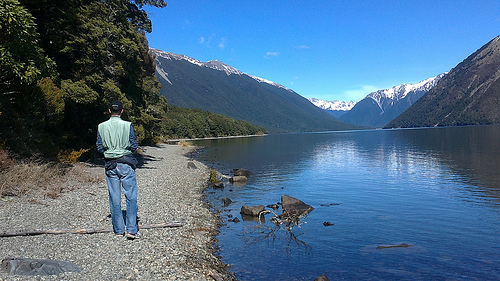 We're out on the wharf and I'm just loving the view. Time to shrug off the 'black dog' and give thanks for what I have. An enthusiastic guy offers to take our picture. I'm not that keen. I know how sensitive the settings are, but it would be ungracious to refuse. We now have two photos showing a massive thumb and the left wing of a duck. The light here is denser and for a Spring month, it's sooo warm. Time to bring out the lunchbox. We dangle our legs over the wharf causing a flurry of activity from curious eels. Michael spots a couple of nudists frolicking in the seclusion of the beachline. Just concentrate on the sandwiches Michael – I haven't forgotten about that Stinkweed.