Woke up this morning to the sound of helicopters hovering over the vineyards nearby. There was urgency in the air. Thousands of tons of grapes hang on the vines heaving with juice and we have to protect these little 'sweeties' from freezing and bursting their delicate skins.
Some viviculturists have a rather expensive but effective solution. In cold snaps, helicopters are dispatched to hover above the vines. The helicopter blades mix the warmer layer of upper air with the icy lower layers that coat the grapes. This action protects the integrity of the skins. Hey, better the expense than a ruined harvest. Sometimes the helicopters go all night but we don't mind. New Zealanders are proud of their wines!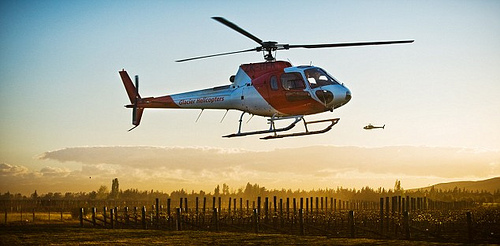 The Autumn light has more density and I can always see things a little clearer than in summer. (although that could be my hayfever clearing up) I love New Zealand Autumns – for the beauty AND cos now we get to take OUR break. Michael's looking a little tired. He's beginning to sigh a lot and that's always a giveaway. But the excitement of the job has definitely NOT diminished and he's enjoyed the season. Once again we've been rewarded with fabulous photos from our clients. Just love getting these. Thanks guys.