It's 8.30pm, the telly's on and the wine's been poured. The French are lining up to sing their National Anthem and Michael is questioning their choice of uniform. Have they forgotten to put their shorts on? "Surely this is carrying Haute Couture too far" he cries On closer inspection we realise it's the waistband and the 'granddad white' causing the confusion. I gulp my wine. The Allblacks throw their heads back and belt out the New Zealand national anthem. The Haka's a bit different this time but just as fearsome and there's every mother's pride and joy, Dan Carter, still managing to look like a broadshouldered 9-year old. But imprinted on my memory is the red-booted midfielder, Ma'a Nonu, a Medusa in full flight.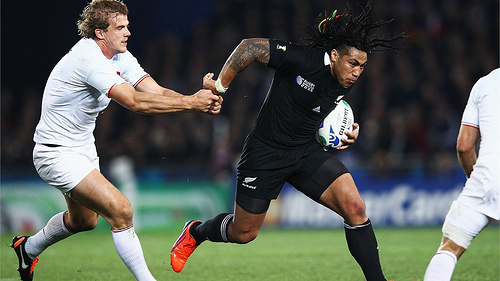 Unless you're living with a remote Amazon tribe, you'll probably know that New Zealand is currently hosting the Rugby World Cup. I'm not a Rugby fan – don't get the mentality that drives it. That is until last night when Michael and I watched ze French playing ze New Zealand Allblacks. Whooping it up in the lounge, we roared ourselves silly. New Zealand is buzzing with different nationalites. Kiwi hosts and businesses are proudly displaying the flags of all the nationas playing. Many thanks to a tireless community of knitters for ensuring that our trees no longer bear the shame of nakedness!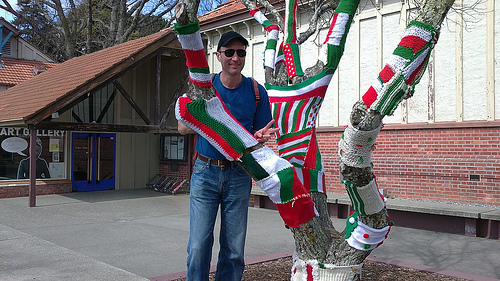 There's a lot of fun around at the moment and evidence of it the morning after. The odd shoe lying around and a jacket thrown carelessly over a rubbish bin, the owner no doubt sleeping it off until the next game. And ladies if you're a visitor to this country looking for love and have set your sights on one of our Allblacks, you might wanna try this strategy…..