At this very moment Michael's peering over my shoulder, his coffee mug at a precarious angle to my neck – "that's gonna bore your reader" he says (note the singular) "No it's not, I protest". I'm eternally grateful for the helpful road signage in New Zealand so why not share the good news.
New Zealand roads are designed for self-drive, greatly assisted by enormous and helpful road signage. I appreciate being given plenty of time to take that turn-off or to rest at the next picnic area etc. This enables the brain to lock into gear before applying foot to brake. If you see a sign indicating the nearest restrooms, it's me you should thank. Kidding! But you can betcha life I'll have mapped out every toilet stop within a 200k radius. Of course no amount of good signage will provide total security so please resist the temptation to get on the road the minute your plane touches down. After a longhaul flight, it's a good idea to rest, get used to our funny wee accents and the different light in this part of the world. Also, the road rules in New Zealand may be very different to your own homeland – remember, the 'biggie' is that we drive on the LEFTHAND side, even on corners.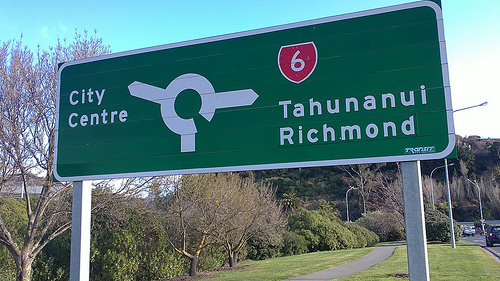 Speaking of tight corners, we're currently living on a hill with narrow streets. The Council have placed convex mirrors to enable motorists to see oncoming traffic on a 'blind' corner. This is a pretty common sight in New Zealand, but you wouldn't believe the tourists that park their vehicles right on the curb to take photos of this scientific marvel. They love it – as do the traffic officers issuing their parking infringements. Speaking of traffic officers, they're a nice bunch of blokes and blokettes, but don't waste your breath arguing the point. Once they've made up their mind to book you, no amount of bluster will change it. Just ask Michael.
Even now it's still a novelty for 'townies' like me to to see sheep being transferred between paddocks via a public road. The unspoken rule is that you give way to the sheep when the transfer's taking place. Sheep rule in this country, ok! Same with cattle, although expect that the nearest carwash may be in order, especially if you have a business meeting to attend.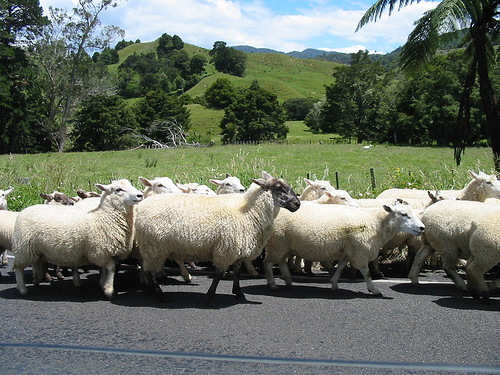 Now for something a little random – Australians. I like Australians, their humour and yes, their accents do grow on you..after a while. As a people they're quite similar to New Zealanders, but New Zealander's don't like being mistaken for them and vice versa. Don't get me wrong, we help each other out when nature occasionally goes berserk – it's just that both countries have their own identity. Our sporting rivalry is legendary, but it's healthy and keeps the game alive! I hope you don't mind me saying this and far be it for me to express an opinion on anything, but I think some Kiwis can be a little too self-effacing. Australians are not. Nuff said.