New Zealand Culture – a day at the Races can teach you a lot about New Zealanders.  This is an event that brings people together. It's an affordable day out and surprisingly its often the smaller that offer the best 'local' experience.  This is great for international travellers that just want to mingle with friendly Kiwis – to kick back and  enjoy the great spectacle of harness racing.
New Zealand Culture – a day at the Races – Harness Racing
Harness Racing is is a form of horse racing in which the horses race at type of trot, pulled by a two-wheeled cart called a sulky. Each January, Harness Racing is held in the lovely suburb of Richmond, which is just out of Nelson City. This is a 2-day event attracting over 7000 people.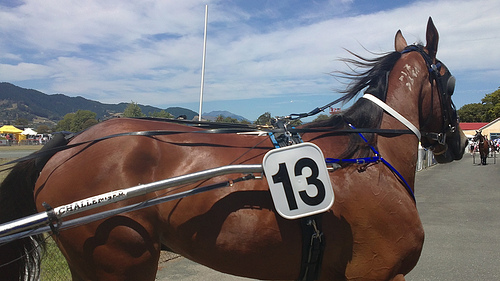 A lot of bring their own supply of bubbly and food but there are plenty of food stalls.  And, we guarantee, you'll see some sights – some rather lovely and others, not so much. These ladies got it right though.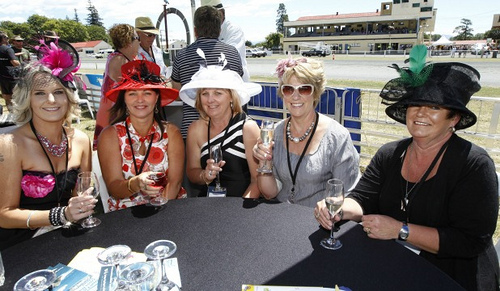 New Zealand Culture – a day at the Races – interaction with the locals
This is a family friendly event where you can stroll over to the stables for a close-up look at the horses.  You might strike it lucky and catch one of the horse-trainers leading the horses out of the stalls. One handsome chap, 'Royal City', had an instant connection with Michael.  I don't know how well he did on the day, but what a great name!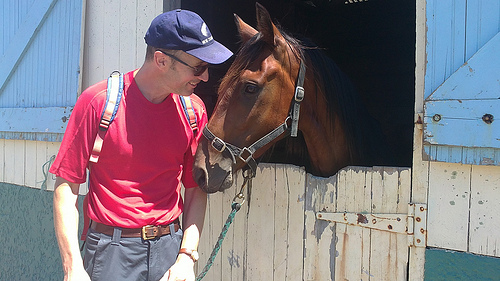 New Zealand Culture – a day at the Races – the excitement
You'll find plenty of atmosphere and buzz at these events. Before the start of each a race, the runners are paraded in the birdcage which is the enclosure at the front of the grandstand.  Here, everyone gets a chance to assess all the horses before placing their bets. If a horse is badly behaved in the birdcage, chances are they won't race well.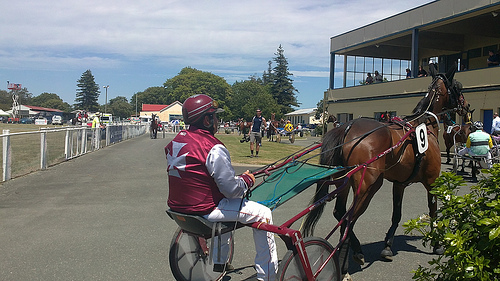 I had forgotten the old-timers of my childhood, permanent fixtures at these events – walking historians and real characters.  You'll find leaning on the bar, big bellies straining at the effort –  these guys have seen it all. They've probably lost more than what they have won. But like us, they'll put it down to another perfect day in paradise.
Happy travelling