"So what sort of food do you guys have"? We're asked this question a lot and fair enough. The short answer is: we have it all folks! Let's start with breakfast. Here's a few samplers of what you'll to expect from quality accommodations, cafes and restaurants in New Zealand:
Corn & Ricotta Fritters. Delicious breakfast fare at Arrowtown House in Central Otago: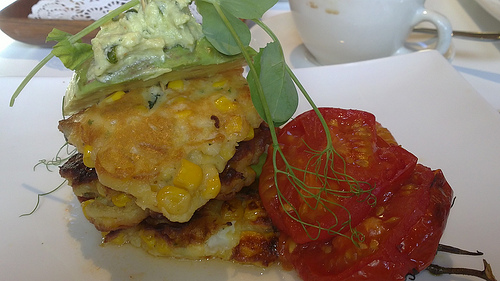 Michael loves his pancakes. Note the impeccable presentation. Ponder, if you will, on the exquisite little piece of honeycomb on top of the pancakes: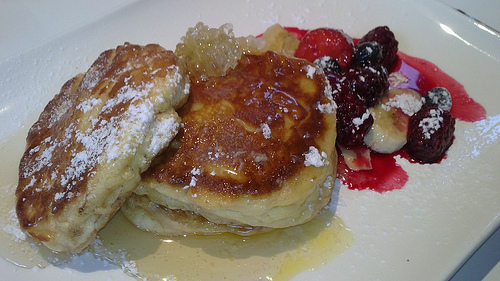 Lunch options are endless, depending on how much you're prepared to spend and what you fancy. New Zealand is a fishing paradise and because we're surrounded by ocean, it's fresh from the wharf and affordable. Don't expect anything less! Here's my fav fish dish with new potatoes & organic artichokes from the Nelson/Tasman region: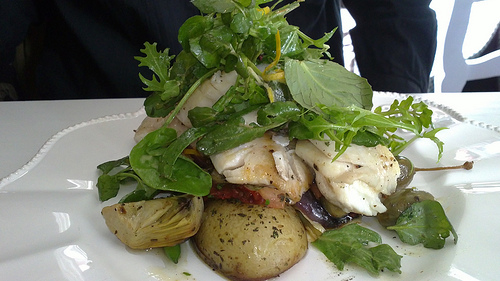 Colourful, tasty and where possible, products sourced from the local region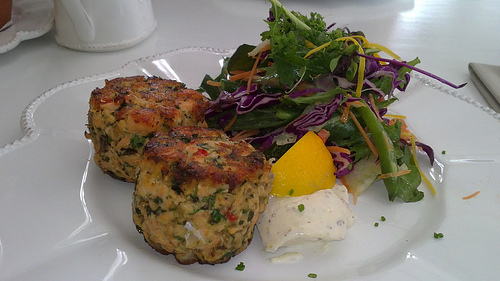 Taking it down a notch, but not necessarily compromising on quality and taste, cafe cabinet food is another popular option in New Zealand. Michael took this photo recently while in Rotorua.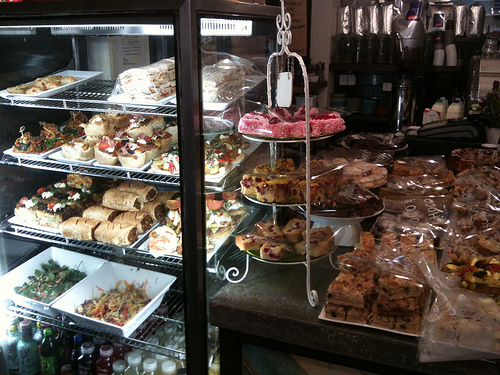 …and mealtimes needn't be high-end or even smartcasual.  What's wrong with a bit of rustic alfresco, especially if the view and the coffee's fabulous.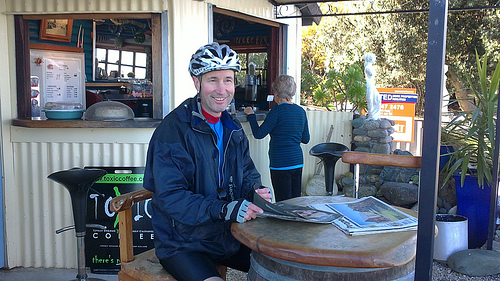 Sure, we get the  travellers only interested in ticking the boxes and skimming the surface. Those guys will only eat the food from their own country. But no problem -we successfully met that challenge years ago. Ethnic restaurants? Take your pick from  Thai, Indian, Burmese,Midde-eastern, European, plus vegetarian, vegan and gluten-free. We're also realising the importance of providing Halal and Kosher options.
You needn't visit a vineyard to get an excellent antipasto platter or ploughman's lunch but hey, why wouldn't you? This photo was take up in the Hawkes Bay region at the Te Mata Cheese Factory, another famous wine area in the North Island.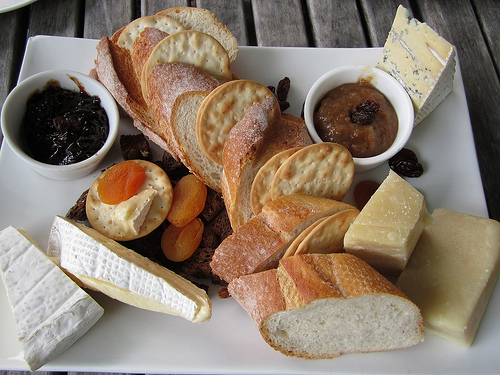 Geez, I haven't even touched on New Zealand's magnificent wines and coffee and top end dining options but then again, I probably don't need to – good news has travelled fast. So here's to you dear traveller for having the will to cross the ocean to visit and eat at our table…..and no, I did NOT have this pizza ALL to myself: