New Zealand Cuisine for Travellers – interesting subject if you're travelling to this country. We get asked about this a lot. The short answer is,we have it all folks! Maybe breakfast shouldn't be the most important part of your day, but it sure helps to start the day off right.  New Zealanders love eating breakfast eating out and we do it very well. Here's a few samplers of what to expect from quality hosted accommodations and cafes in New Zealand:
New Zealand Cuisine for Travellers – Breakfast choices
This was our breakfast when we stayed in Central Otago recently. The corn fritters were full of flavour and we just loved the extras on the plate.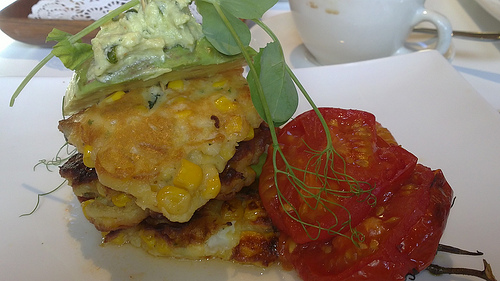 These pancakes were definitely not the pre-mixture you get in some places.  Presentation is everything and that amazing little piece of honeycomb on top, turned it into something really special.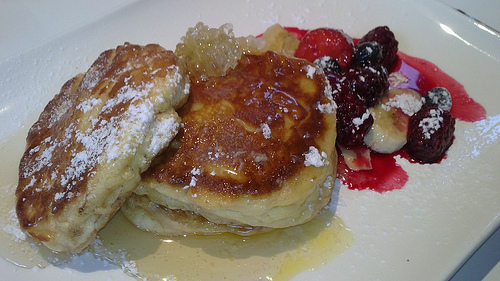 New Zealand Cuisine for Travellers – Lunch options
The lunch options in New Zealand are endless and can be quite an event. New Zealand is a fishing paradise and because we're surrounded by ocean, fresh fish is often delivered fresh from the wharf to the restaurants nearby. Plus it is extremely affordable Chefs in New Zealand are expected to be extremely knowledgeable about creating the perfect fish dish. Don't expect anything less! Here's a great example – pan-fried fish served with new potatoes & organic artichokes from the Nelson/Tasman region: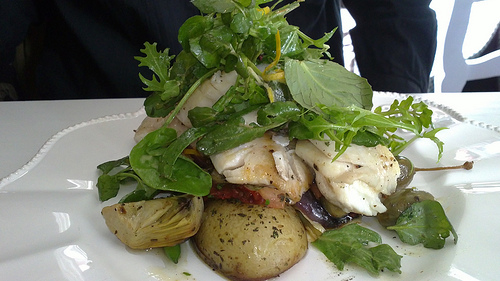 New Zealand Cuisine for Travellers – Cafe food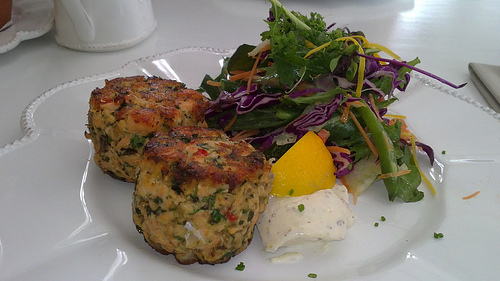 Taking it down a notch, but not necessarily compromising on quality, cafe cabinet food is another popular option. I would recommend this if you don't necessary want to linger over lunch for too long. This is lunch Lime Cafe in Rotorua. As you can see, variety is everything folks!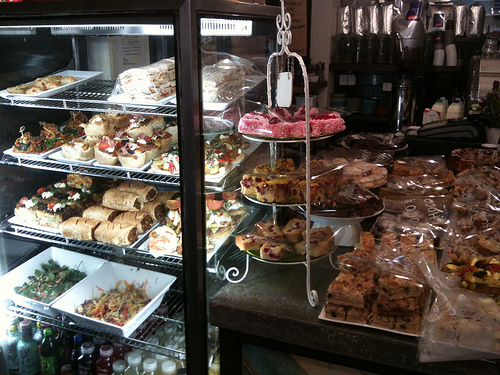 Remember, dining in New Zealand need not be high end. Some of our most popular restaurants have a very rustic feel and we tend not to dress up too much.
New Zealand Cuisine for Travellers – rustic dining
Of course, there's nothing wrong with a bit of rustic alfresco, especially if the view and the coffee's fabulous.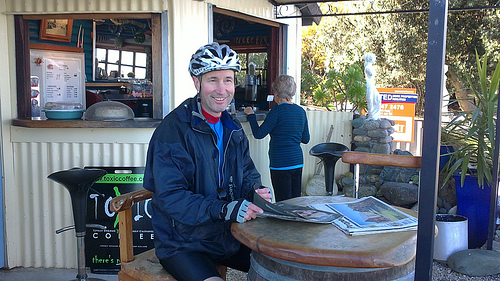 New Zealand Cuisine for Travellers – Ethnic & specialty foods
Now a lot of travellers are only interested eating the food they're familiar with from their own countries. New Zealand successfully met that challenge years ago. Ethnic restaurants – take your pick. You'll find some great Thai, Indian, Burmese and Middle-eastern places dotted all over the country. Vegetarian, vegan and gluten-free – we haven't forgotten you guys either. We're also meeting the needs for Halal and Kosher options.
New Zealand Cuisine for Travellers – Vineyard Restaurants
You needn't visit a vineyard to get an excellent antipasto platter or ploughman's lunch but hey, why wouldn't you? This photo was take up in the Hawkes Bay region at the Te Mata Cheese Factory, another famous wine area in the North Island.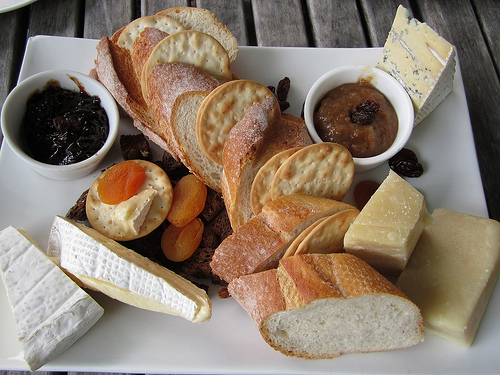 I haven't even touched on New Zealand's magnificent wines and coffee, but then again, I probably don't need to. Good news travels fast. So here's to you dear traveller for travelling across the world to visit and eat at our table. Just for the record, I actually shared this pizza.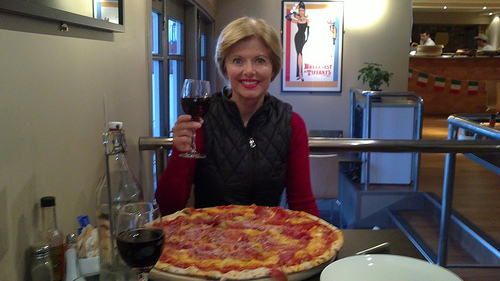 Here are some interesting lifestyle travel itineraries to start planning your trip with.
Happy Travelling!