Had a customer recently who chose standard New Zealand accommodation and was astonished at how well equipped it was – there was even a kitchen!  Kitchenettes are pretty standard and usually include the basics such as micro wave, utensils and a pot or two.  For some people, that's enough, but if you're like me, you may require a little more. This photo shows a full kitchen at The Old School House at Kina Beach.  This gorgeous little honeymoon cottage sits in the middle of a vineyard, with no shops or restaurants nearby. Once you arrive at this picturesque scene, you'll just want to whip up a simple meal or platter, pour the wine and kick back to admire the view.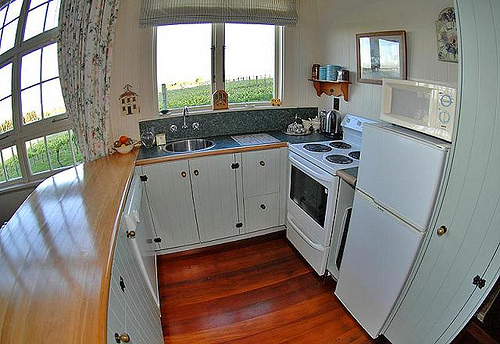 We like variety in our itinerary and that means NOT having to eat out every night and having the option of relaxing  just by ourselves. Sounds appealing? You bet it does, especially after a full day's driving. But you like being in the hub of things? More good news. New Zealand also provides inner-city self-contained apartments (Sebel Suites, Auckland):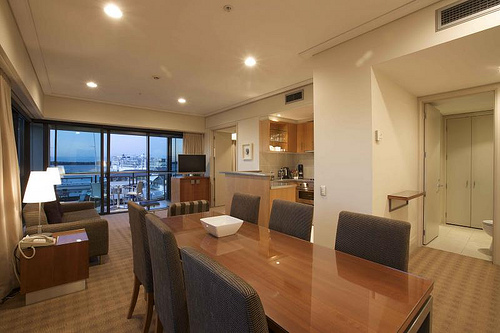 it gets even better folks – depending on your budget, there are many levels to choose from. Stand-alone luxury retreats provide very attractive stay-in options – how about a fully equipped separate kitchen with sophisticated coffeemaker, breadmaking machine (yes, you heard correctly) and state-of-the-art pots, pans, bone china, quality cutlery and of course a wall-mounted oven with full gas hobb. See what I mean?

"Self-contained" also means getting up when you like and not having to worry about 'bed hair' or your inability to converse first thing in the morning with the ones you love.  It's a very gentle way of starting a new and exciting day of travel!