The Matai Valley Dun Mountain Bike & Walking trail is a great stroll and so scenic. It's the ideal walk to do if you're visiting Nelson, because it's so close to the actual city. Just head down Nile Street and turn left into the Matai Valley Road. Go pass a couple of beautiful reserves and the entrance to the beautifully laid out 9-hole Waahi Taakaro Golf Course. Turn into the camping grounds on your right. You're about to embark on the Matai Valley Dun Mountain Bike & Walking Trail – als0 a fabulous mountain bike trail. Unlike this guy, you don't need to pore over a map – just look at the detailed signage behind him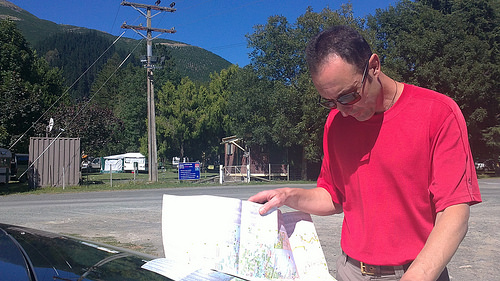 This sign will tell you all you need to know. In fact, the signage for trails throughout New Zealand trails are very detailed and will give you an idea of the amount of time involved and the distance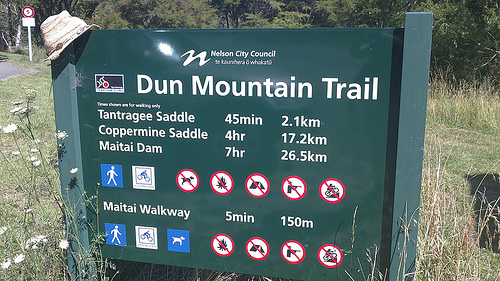 These trails are full of lovely and unexpected variety. On the day we walked, the trees were plump with ripening fruit.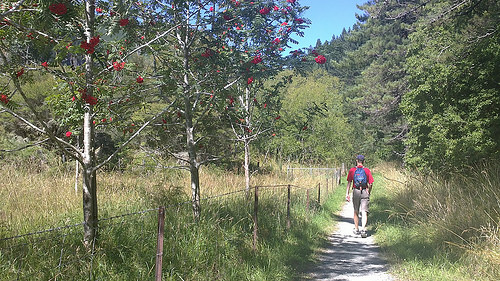 There's something terribly soothing about the sound of a gentle river.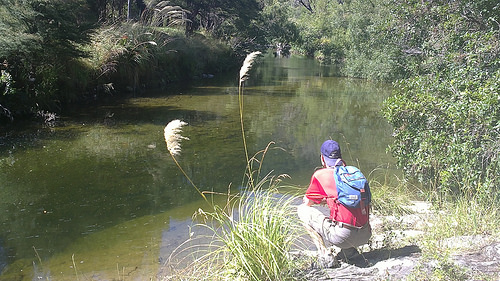 You'll get to meet plenty of serious Mountain Bikers and joggers. Everyone seems to be very respectful about giving way.  Most people using this track just want to keep fit, have fun and experience nature . The trail meanders around the side of the hills and you'll be astounded when the most spectacular valley suddenly appears.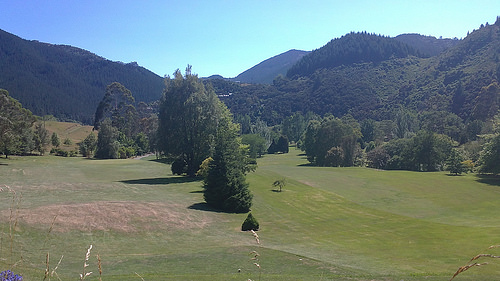 You'll get the full panoramic view of the Waahi Taakaro Golf Course below.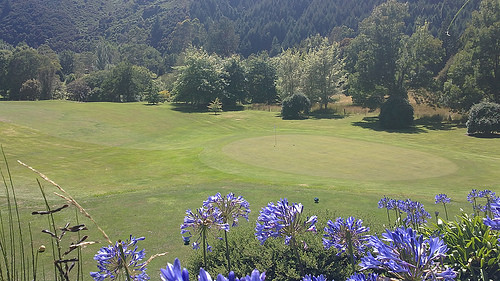 The walking trail option we chose was not really that challenging but as we looked further ahead, you could actually see the Mountain Bike track winding very steeply around the hills. I think you'd have to be pretty keen to tackle these ones.
Before heading back for some lunch, this guy was intent on showing that, he knew about that signage all along……yeah right!