Jet Boating Tours North and South Island New Zealand  is very much a Kiwi 'thing'.  In fact, the Jet Engine was invented right here in New Zealand by a local Christchurch man, Sir William Hamilton. He knew it was not possible to use propeller drive boats in our great South Island rivers – the water is often only an inch or two deep. So the Jet Engine was born!
Jet Boating Tours North and South Island New Zealand – Advantages of a Jet Boat
Jet boats are highly maneuverable. Its hard to equal the thrill of reversing at top speed and then stopping within a boat length. This maneuver is known as a "crash stop". The well known Hamilton turn or "jet spin" is a high-speed maneuver. It involves cutting the engine throttle, steering sharply, then opening the throttle again. The boat then spins quickly around omitting a huge spray of water. No time to catch your breath here folks!
Jet Boating Tours North and South Island New Zealand
For visitors to New Zealand there are a number of Jet boating options. However, bear in mind there are 2 key differences.
a) The first option is the one I like to refer to as the 'fast and furious'. The jet boat speeds through narrow gorges and delivers a total 'adrenaline rush'
b) the second option is the 'classic river journey'. Jet boating on wide river valleys surrounded by stunning native landscape such as mountain, rain forest or grassland. Option b) is found mainly in the South Island.
'Fast and Furious' Jet boating options New Zealand
Hukafalls Jet Boating Taupo, Central North Island – Hukafalls Jet Boating is located in Wairakei Park, Taupo –in the Central North Island, ten minutes north of Taupo and 45 minutes South of Rotorua. Exhilaration galore is pretty much guaranteed. But at the same time, you get to enjoy views of the spectacular Huka Falls.  By the way, is this is happening at 80km per hour – cap it all off with a jaw-dropping 360 degree spin!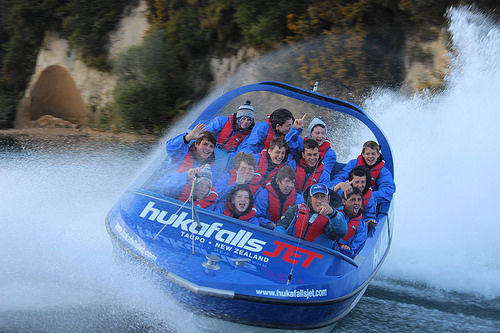 Shotover Jet Queenstown – Shotover Jet is the only Jetboat company operating in the Shotover River canyon. For pure adrenaline , this iconic Queenstown attraction is the ultimate jet boat experience. Powerful jet boats are dwarfed by the towering Shotover Canyon walls. And great skill is need to negotiate rocky outcrops,crags and boulders. But, don't worry, these guys have it in spades.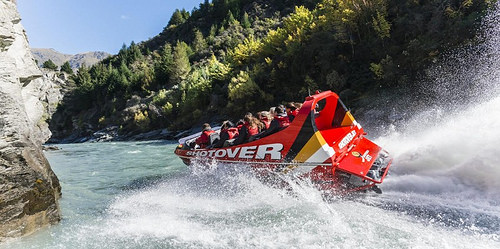 'Classic River Journey' Jet boating options
Whanganui River Bridge to nowhere –  This is a 30km (1 hour) trip upstream in the Whanganui River, Central North Island.  The native bush on either side of the Whanganui River is so lush, you can smell the moisture. There's a variety of amazing scenery throughout this jet boat trip – deep gorges covered with ferns, caves and rapids.  Continuing on deeper into this wilderness area and you'll arrive at the Mangapurua Landing.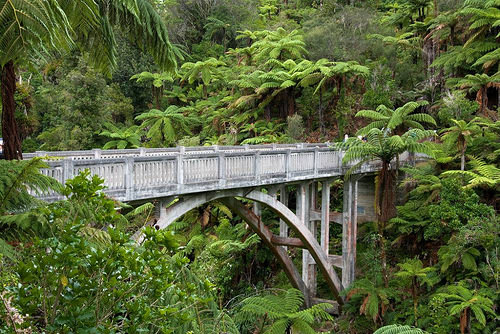 Wanaka River Journeys – There is a spiritual element to this jet boat tour. The braided Matukituki River changes constantly. Fed by glaciers and surrounded by the peaks of Mount Aspiring national Park, the Matukituki river is one of New Zealand's most pristine jet boating rivers. The landscape is really magical.  But what I really enjoyed about this trip, was hearing the stories of the the land and the people. See travel blog on this trip.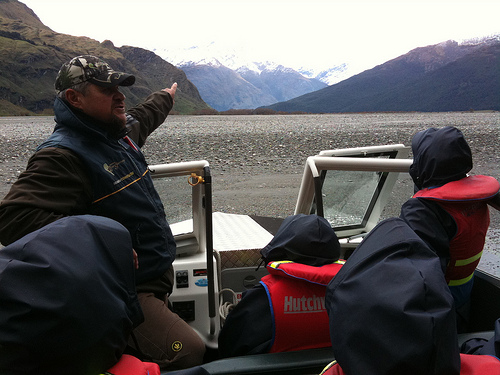 Siberia Wilderness Adventure Makaroa, South Island – The Siberia Experience is a 4 hour wilderness adventure in Mount Aspiring World Heritage National Park. It starts with a scenic flight, followed by a bush and valley walk. It ends with a jetboat ride in the Wilkin Valley. And if you love the feeling of complete isolation, you'll love it.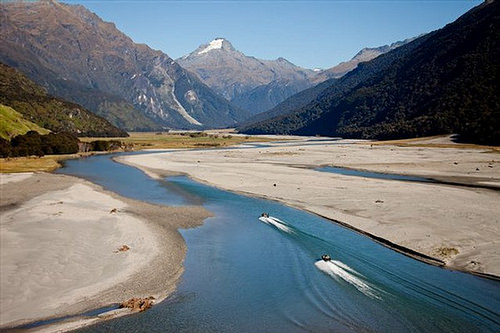 Dart River Jet Queenstown – Dart River Safaris takes you into the very heart of a world heritage area. And for nature lovers, this tour is such a thrill. First, you'll be jet boated into the pristine wilderness. Travel up a stunning aquamarine "braided" glacial river, beneath magnificent snow capped peaks mountains. Next there's a refreshing short walk amongst ancient beech forest.  Finally, just kick back to enjoy a back-road coach journey through fantastic scenery where several Lord of the Rings films were shot. Its one of those great combo tours with variety plus. Allow 6 hours return. Read another travel blog on this trip.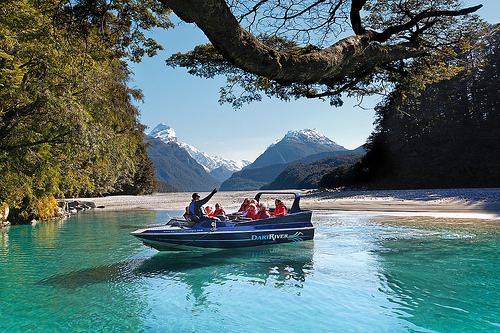 Waiatoto River Safari South Westland – This jet boat tour is unique in that it is  the world's first and only sea-to-mountain eco-jet boat adventure. Explore the remote Te Wahipounamu, the South-West New Zealand world heritage area. This Premier Jet boat tour of 2.25 hours, includes an optional bush walk. There's no better recommendation than from Lonely Planet.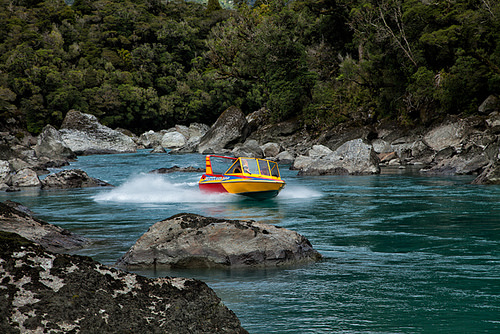 Wairaurahiri Jet Lake Hauroko Fiordland – Wairaurahiri Jet is located in a very remote area of New Zealand and covers 94 Kms of jet boating into the heart of the Fiordland National Park. Travelling across Lake Hauroko and down to the rugged southern Waitutu coast via the wild Wairaurahiri River – this is an exhilarating day in the great outdoors. Read another blog on this trip.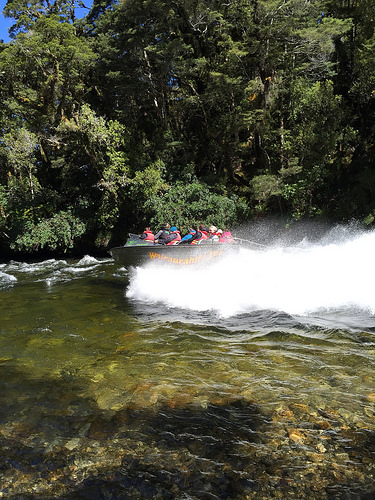 White Heron Nature Safari Westland – View the majestic Kotuku (White Heron), the Kotuku Ngutu Papa (Royal Spoonbill), Kawapaka (Little Black Shag) and other Bird life – all in their natural environment within the Waitangiroto nature Reserve.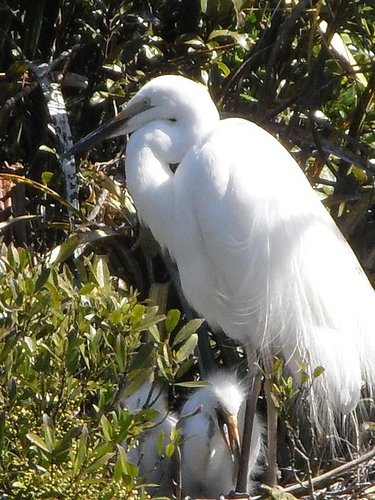 This small group tour is suitable for those people with a genuine love and respect for birdlife. The jet boat ride is very gentle and only takes 20 minutes each way. After landing at the jetty, take a short boardwalk (500m) through native bush to the viewing platform. You're able to quietly observe these beautiful herons for 30-40 minutes. It is a privilege to see these creatures in their natural habitat and for me, it was quite a spiritual experience. Read another blog on this trip.
Summary on Jet boating options in New Zealand
Most visitors to New Zealand include a jet boating option in their itinerary.  I guarantee, you'll have no trouble finding a suitable option for Jet Boating Tours North and South Island New Zealand. If you're lucky, you might even make a friend or two among the locals.  We love our piece of paradise and enjoy showing it off.
Happy travelling!