This is the tour I enjoyed the most from Port Douglas – sailing and snorkelling on the Aquarius, a beautiful 62ft Catamaran with a maximum of 23 guests.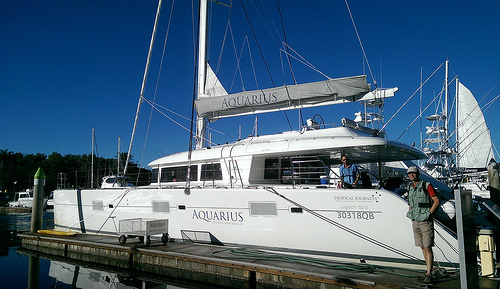 There's a different level of comfort and service here folks. Today, we sailed out under blue skies and a beaming sun.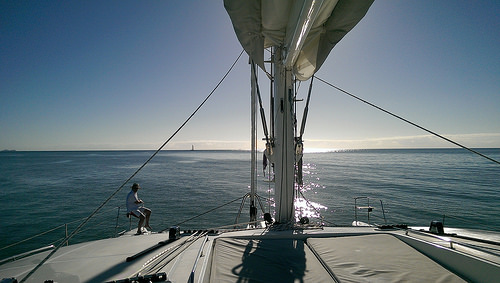 With a gentle breeze, we headed out to Low Isles a beautiful white beach surrounded by marine life, including large green turtles. The two crew members of Aquarius, Skipper Andy and Hostess, Jo, provided a very personalised level of service. Andy understands the male obsession for being at the helm: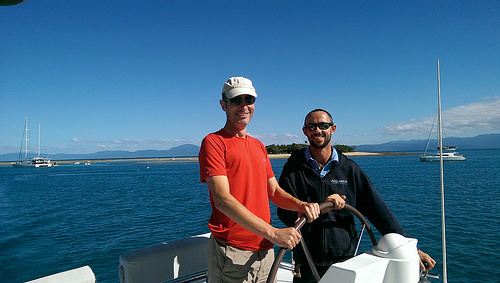 And Jo? Well Jo just sparkles with personality and doesn't mind me watching her every move. She's happy if her guests are happy.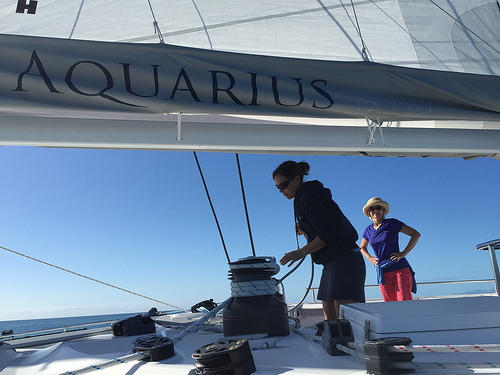 On these boutique sailing tours, there is a different type of guest. No children under the age of 16 are permitted. There are mainly couples on-board and the conversation is relaxed and easy.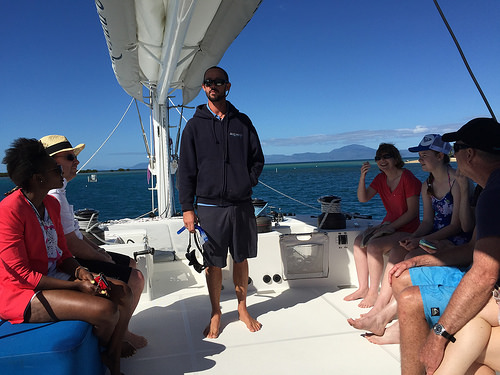 Great Barrier Reef snorkeling trips Port Douglas at Low Isles:
First, we're transferred from the Aquarius into a glass-bottomed boat to the beautiful white beaches of the Low Isles. Here's me, clutching my flippers and measuring each step.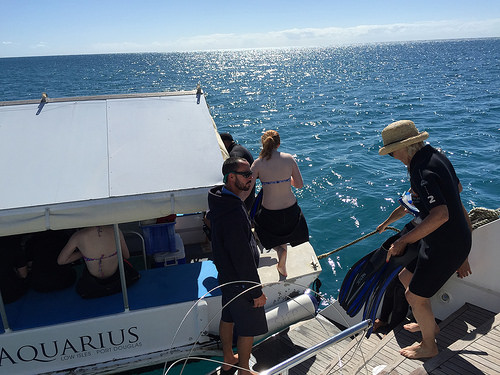 When we reach Low Isles the snorkelling begins and once again I observe the meticulous care of the crew. The snorkel, mask and mouthpiece are checked on every guest and adjustments made. Jo then invites the less confident to latch on to a rubber ring which she pulls along on a rope. The energy this must take, absolutely staggers me! These crew members are incredibly fit.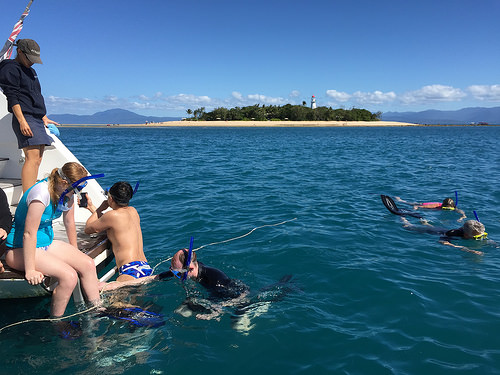 Every now and then Jo stops when she sees something of interest, like the gorgeous fish known as Cleaner Wrasses. Larger fish hover underneath us, waiting patiently for the Cleaner Wrasses to remove their parasites and dead skin. Unfortunately there's an imposter that's able to mimic the Cleaner Wrasses.  Sometimes these little 'nasties' burrow through the gills of the trusting fish, helping themselves to chunks of flesh, before swimming off. How thrilling to see the Black-tipped reef sharks and yes we swim with those sharks. In fact the sharks in these waters are totally harmless and are known as the 'puppy dogs' of the ocean. You'll be amazed when they shy away from you!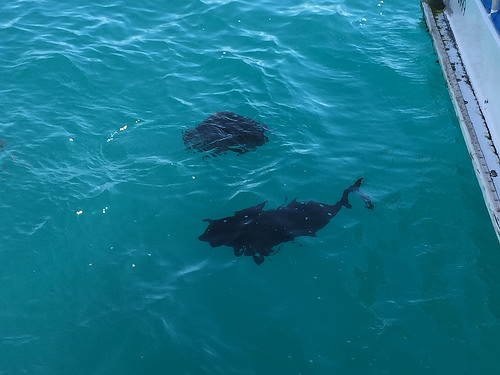 Low Isles Island Tour:
I could remain snorkelling but opt for a walking tour around the island with Andy. Can you believe the size of this clam shell! Later on when we all go snorkelling again, we'll see giant living claims many times the size of this one.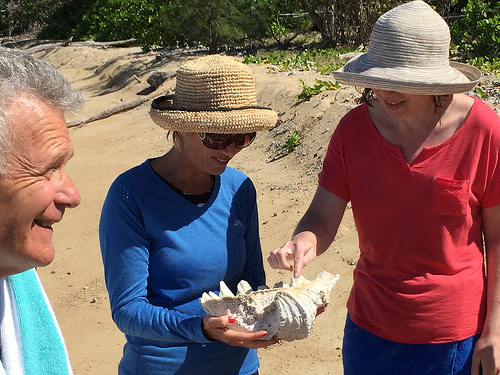 The lighthouse you see in the far distance of the second to last photo is actually quite impressive. It's the first lighthouse in Northern Queensland. Such a pity that the first light-keeper's wife died within 2 weeks of arrival. We spend a quiet moment at her grave.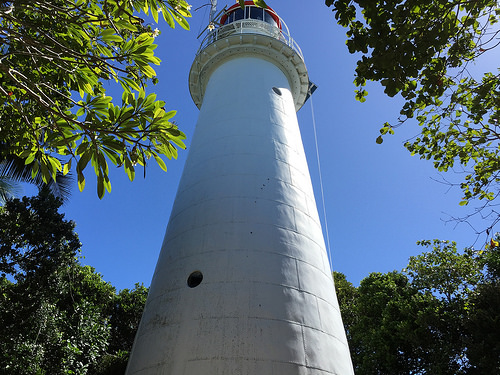 Walking through the bush we catch sight of the birdlife and their magnificent nests before heading out once more onto the beach and it's sparkling waters.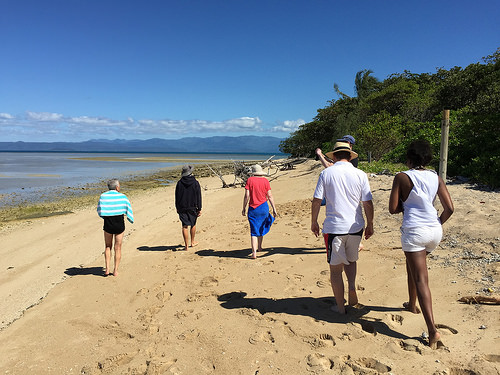 Michael and another guests snorkelled their way back to the Aquarius Boat which was anchored a short distance from the beach. The rest of us went back via the glass-bottomed boat to view more marine life. I counted 6 large green turtles in the space of 5 mins!
Lunch on-board the Aquarius:
On tours like this, you won't find the usual blubbery suspects elbowing their way to the buffet table. It's an experience to be savoured. The food is beautifully laid out with succulent fresh prawns and other delectables. But it's the dessert table that seduces me. Who could fault this cheese platter?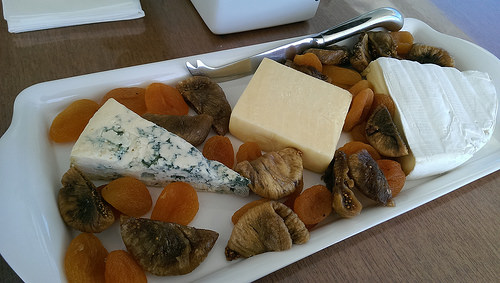 The cheesecake squares are delicious, as are those insane little fruit slices that melt in your mouth. It's all nicely polished off with freshly cut tropical fruit: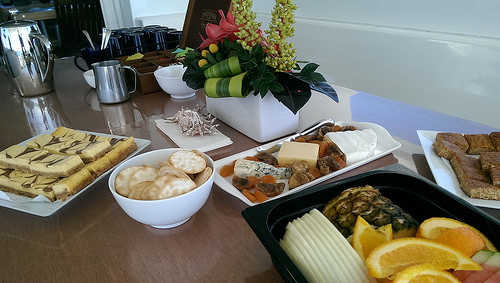 There's more snorkelling to be had directly off the Aquarius but I prefer to kick back and just chill out, totally oblivious to the curious fish on the right.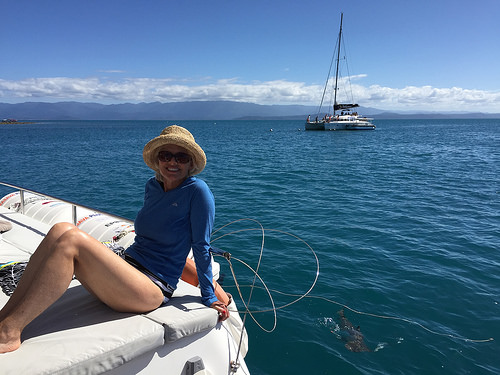 Luxuriating to the sound of water gently slapping against this beautiful vessel is something I've dreamt of for a long time but one of the guests on-board has harboured his own dream. Bin has always wanted to hoist sails and now is his chance. Under careful supervision, Bin's dream comes true. Mission accomplished.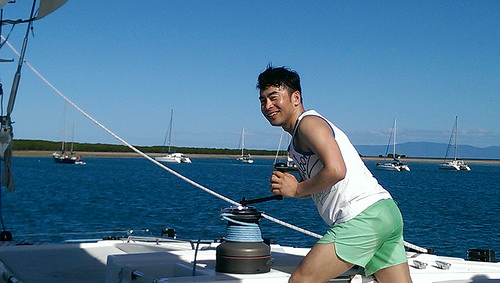 Our day is over, but not for Andy and Jo. They'll be getting the boat in shipshape order for the sunset cruise where they'll sail into a golden sky.
Happy Travelling.