One of my favourite places for unspoilt beauty and local flavour is the area known as Glenorchy, a 45 min drive from Queenstown – an absolute pearl. On a recent visit we stopped for a coffee. "Try the Glenorchy Hotel" we were told. Not this time we thought. Instead, we followed the locals to this very cute Cafe – good coffee and a great choice of alfresco seating areas.
Afterwards we strolled around sniffing the air and exploring and came across this rustic little store, a great place to buy possum fur products of every description and (I think) at very reasonable prices. Inside there were some very excited Asian ladies having a great time trying on possum fur hats then running across the road to show their bemused husbands. They FINALLY came back still wearing the hats and ready to pay for their purchases – bless em.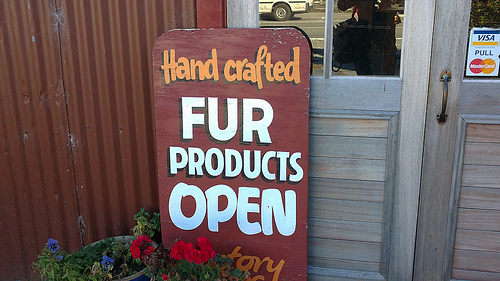 By the way, Glenorchy is the gateway to a number of serious walking tracks, including the Routeburn. Here's a few more scenic shots from the Dart River: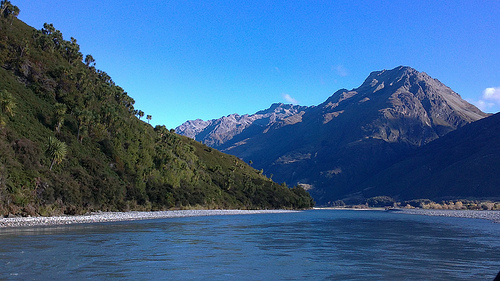 Many people have heard of Blanket Bay, a high-end American style Lodge, near Glenorchy, but sometimes little fish are sweeter.  Precipice Creek Station B & B is set in a stunning location 4kms pass Glenorchy.  This accommodation is a private 'couples' place and is owned Vladka, originally from the Czech Republic and Richard, a born-and-bred Kiwi.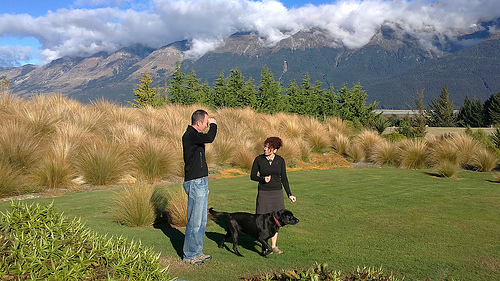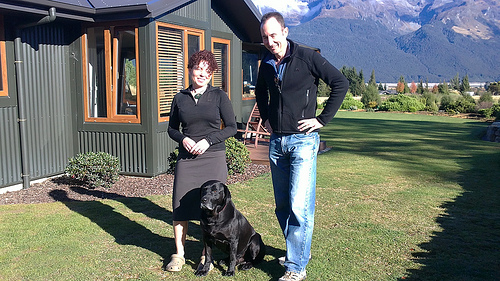 Here's Michael yakking it up with Vladka while I snap a few shots of the friendly locals.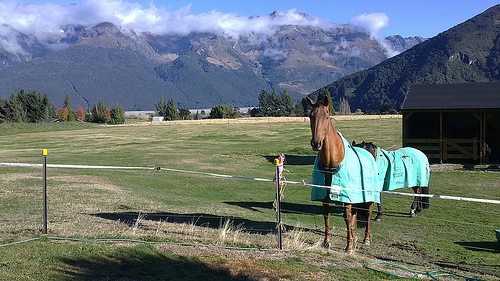 The  B&B unit is fully separated from the main house, spacious, light and with a sunny deck for viewing the Humboldt mountain range.  I loved Vladka's little touches – presentation is everything here and her thoughfully placed artwork make a styly statement.  Loved the gorgeous possum throw on the bed.
Glenorchy is a restful place but if you want outdoor activities, there's an abundance of it from fly-fishing, jetboating, horse-riding and scenic safari road tours, greenstone and of course very special places to stay.
View other travel blogs on the Queenstown region:
Happy Travelling!