When we arrived at the Zealandia Wildlife Sanctory in Karori Wellington, it felt like we were the only people there – and we were. Feeling overjoyed that we'd have the whole place to ourselves (such naivete!) we smugly headed towards the ticket office only to find it was closed! Didn't WE feel foolish! Be warned dear visitor, this vast paradise doesn't open until 10am most days. As we slouched against our rental car, we felt a large part of our morning had been wasted, but gotta say it was defintely worth the wait. There's an additional charge for seeing the exhibit hall and whilst this is incredibly interesting for the internationals, I was bored – attention span of a gnat. Not so however, once we entered the path leading to the sanctuary.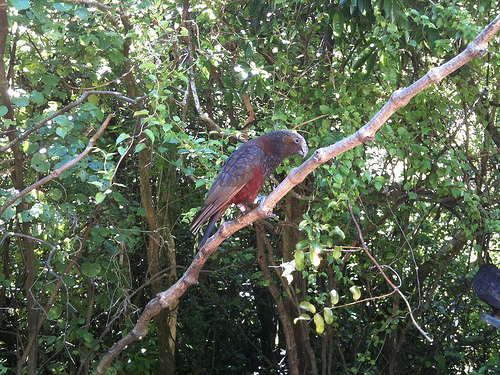 There are some great areas along the way where you'll come across an array of buttons on a panel – press any one, and they'll make a birdsong from one of the species represented at the Sanctuary. Some of the folk milling around had become irritated with a tiresome little woman monopolising the panel – After his third and most forceful attempt, Michael managed to drag me away. The thing that struck me so forcibly (no, Michael did not strike me), is that this 550 acre valley of lowland forest and wetlands, is only 2kms from Wellington, yet the tranquility of this paradise will surprise you. My favourite spot (apart from the pushy button area) was the feeding station for the Kakas.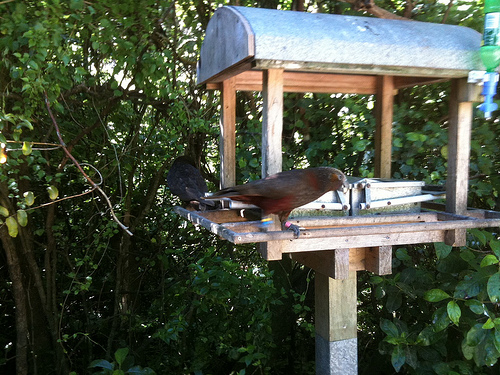 As these large parrots swooped pass just a few feet from my head, I was convinced that had I stood there long enough, that's where they might have landed. Actually (and I know this might be hard to believe) these cheeky birds left me feeling that their intellect may very well be superior to my own (told you it might be hard to believe). The Karori Wildlife Sanctuary in Wellington is fully fenced from predators so the rarest of these native animals are kept safe. Do take your own liquid refreshments, although there is a restaurant on site should you need it.