Electric assist bicycles (e-Bikes) New Zealand cycle trails. Since the introduction of dedicated cycle trails, cycling has become very popular in New Zealand. E-bikes have become especially popular with the lifestyle crowd, so I thought, I'd give it a go as well! View some South Island travel itineraries.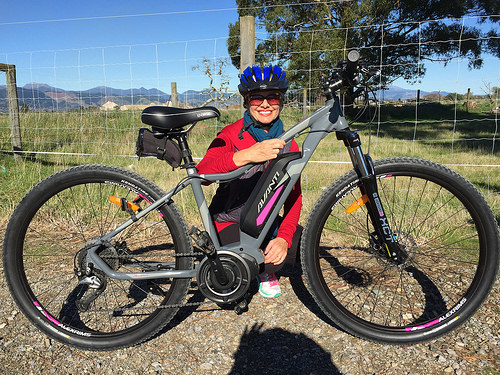 Getting prepared for the e-bike cycle trip from Nelson
Now e-bikes are still quite expensive to buy, so a I thought it would be a good first experience to rent one from a local cycle rental supplier in Nelson. This cost me NZ$99 per day (plus added NZ$3 insurance, just to cover any damage). It's incredibly simple to use and I took to it like a duck to water! My e-bike cycle had nine gears, plus three levels of 'e-power' –  'Eco' / 'Medium' / 'Full Power'.  Everything is included in the rental – helmet, bike packs, security log, maps, repair kit plus a mobile phone back up number. The Nelson operator also does one-way rentals to Mapua and transfers back (or the other ways around). Another option is also to sail back to Nelson. Such choices!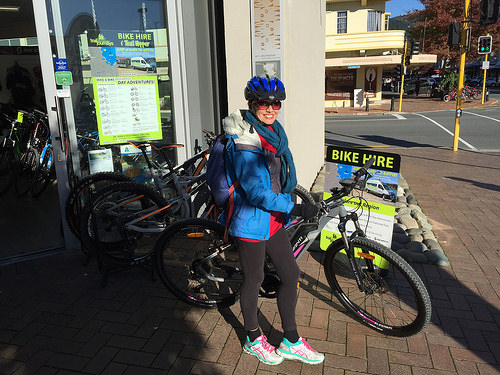 Cycling to Richmond on the Tasman Rail Trail
After a slow start heading out of the inner city of Nelson I approached the Tasman Rail Trail – and it started uphill! Well, there was no stopping me. I switched to the Eco setting and glided effortlessly up the hill. Michael was in awe. He says that in all the 15 years of cycling together, this was definitely a first. It was also the silence – no complaining at all. When I overtook him, he began to suspect I'd switched the setting to 'high' – his word against mine! View some South Island travel itineraries.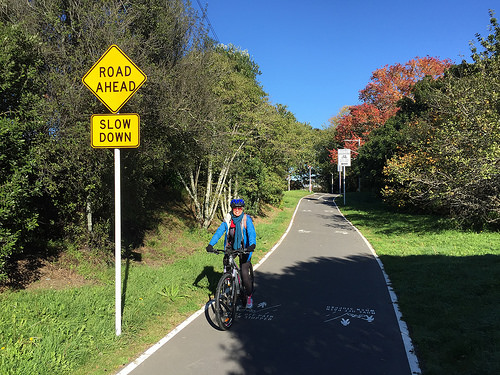 From Richmond toward Rabbit Island
The cycle trails in the Nelson-Tasman region are often quite flat, which makes it a great cycling region. We enjoy stunning weather but sometimes biking can be challenging in a head wind, especially for lower fitness levels.  In this respect, the e-bike opened up a whole new world to me.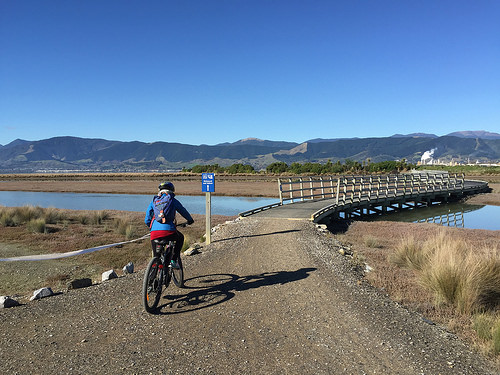 I met an elderly gentleman, who'd just bought himself a new e-bike. He was now able to enjoy day trips with his whole extended family and guess what, he was leading the pack.  No one needs to miss out. We stopped for a quick breather. It seemed as though the whole region was at the Jellyfish Cafe in Mapua that day.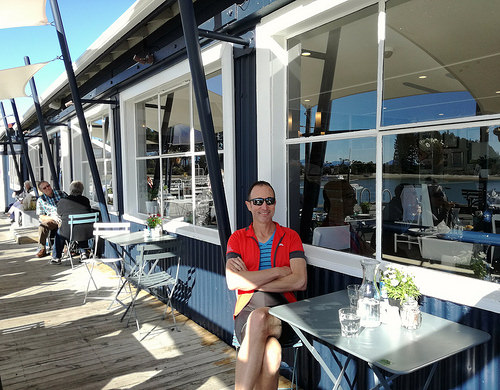 Electric assist bicycles (e-Bikes) New Zealand cycle trails – Bespoke tours
The owner-operated 'Wheelie Fantastic Cycle Tours' offer bespoke tours. Rather than you having to collect the bike from a shop, they'll actually deliver the bike to you. They don't integrate groups, so its just you and your chosen itinerary to enjoy to your heart's content. Remember, we have some great vineyards around here.

Flexibility is the key here – you can be self-guided, guided and opt to have vehicle support along the way.  These guys are keen cyclists themselves so guess what they do on their days off?

Owners, Nicki and Lisa, are also keen triathletes and their knowledge of the region and bikes are legendary.  We have also used their bespoke service and loved the security of knowing they were never too far away. I loved their beautiful e-bike pictured to the left in the photo below. Their high quality trail bikes are designed for comfort and performance on the trails and back roads. Besides all that, they're just such lovely people to deal with.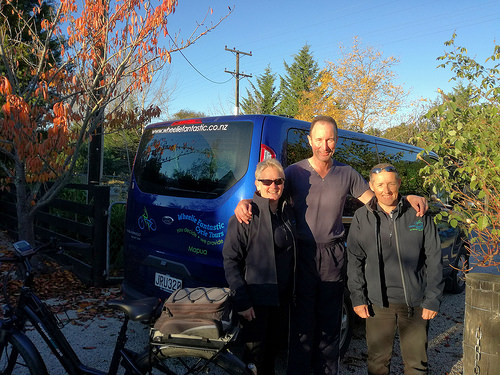 I completed a 40km trip on an eBike. I hadn't biked for over a year and it was a breeze. Honestly, I can't imagine how I ever managed the hillier parts before. New Zealand now has a sophisticated network of Electric assist bicycles (e-Bikes) New Zealand cycle trails and its such a great way to see the country. View some South Island travel itineraries.
Happy travelling!