New Plymouth, here we come for our 2-night stay.  The landscape reveals green rolling hills and lush meadows and it's a magical moment when first I lay eyes on Mt Taranaki, the highest point in the North Island.  This mountain has a very special significance to the Maori people, yet I too am deeply moved by it. Today its shrouded by cloud but by tomorrow afternoon it will look like this: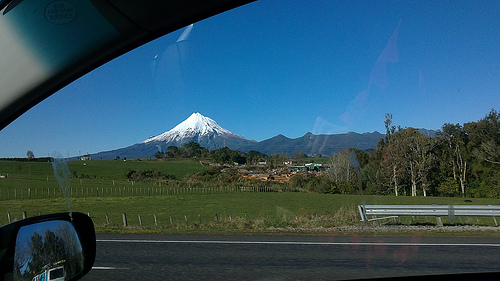 Standing century at the eastern end of New Plymouth's harbour is Paritutu Rock. There's a track up the rock, beginning on the northern side where the views are astonishing. We made a valiant attempt to scale the top but were soon overtaken by a couple of impressively fit teenagers. Managed to get half-way. Enough said: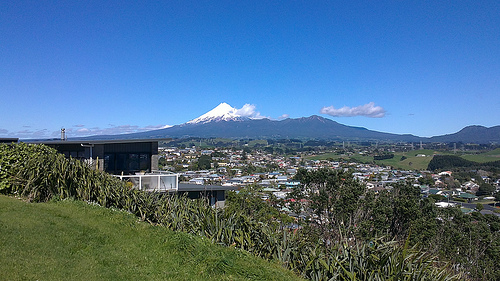 We're staying at Hosking House B & B and know nothing about it except that it's centrally located within walking distance of the CBD. It doesn't take us long to realise that we've found an absolute gem! Hosking House is owned and hosted by Rodney Hosking, a Kiwi and Rachel Church, a softly spoken sweetheart with the gentlest American accent.  The villa has an unobtrusive and discrete atmosphere – and that's just the way we like it: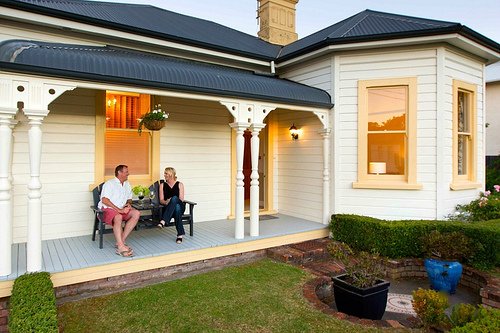 The professionals who helped renovate and decorate this villa have really thought outside the square.  The original old wood has been retained to create a perfect blend of heritage and contemporary style without compromising the character of the original building – no mean feat. The spacious suites and living areas feature polished wooden floors and large windows: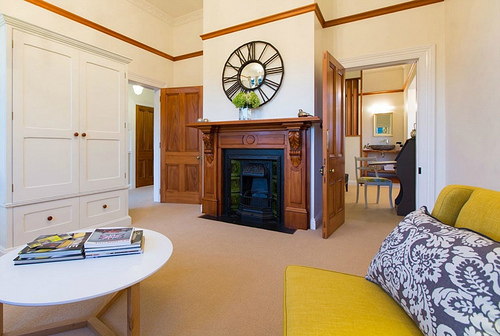 We love the idea of creating open 'louvers' to separate the bathrooms from the bedrooms without compromising the natural light or space and this lovely sculpted stone basin adds a nice rustic touch don't you think.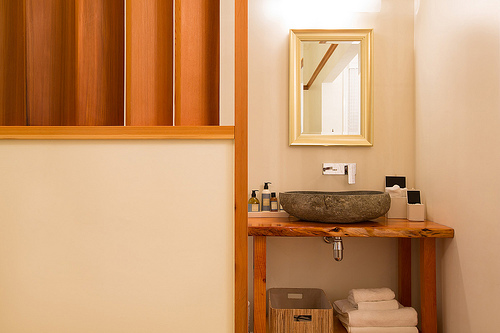 The walls are pristine white and original artwork is featured throughout. A Garden of Eden has been created at the back of the house. Before we head off to eat, just a another little plug for the Nellie Tier toiletries in the ensuites. These NZ made products would hold their own with top world brands. Honestly this is first time I've ever seen Michael use body lotion!
We're dining at Salt Restaurant tonight.  It comes highly recommended and we're not disappointed. Lovely welcoming staff, top service, beautiful food and coastal views from our window seat. We're loving our first night here. Looking forward to a relaxing day tomorrow of cafes, gardens and an unexpected fabulous Maori exhibition. Bring it on!