It's orientation hour at Kea Campers as DJ explains everything we need to know about our 6-berth Motorhome. I'm trying to stay focused, but it's a losing battle. Fortunately Michael retains pretty much everything. We set off with blue skies, a hazy sun and I'm enjoying the ride. This motorhome's very easy to drive with six gears – very handy for winding roads, which are mostly empty and this makes Michael a happy chappie (see photo). First stop, Cheviot, at the Two Rivers Cafe and isn't this a great find! Rustic, spacious, great food & coffee. The outside area is lovely with garden sculptures and lovely artwork on display. Have to stop for photos as we head up the coast to Kaikoura. This route has to be one of the loveliest scenic drives in New Zealand. Everything's so green and the water sparkles a big welcome.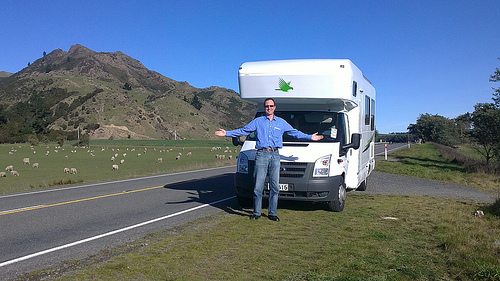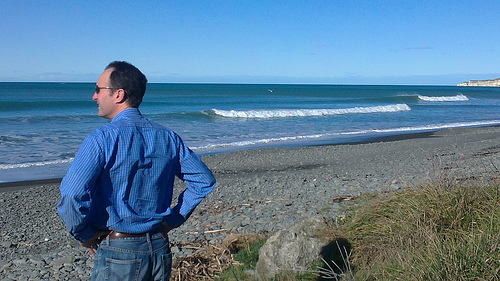 We're meeting Janet and Paul at the Hapuku Factory. No, it's not a fish cannery, but a rather unique and very appealing accommodation. It's an old factory that's been converted into something authentic, yet very stylishly rustic. There's some lovely touches here – most of the furnishings are New Zealand made with vibrant coloured bed coverings, chandeliers, old and original ironwork. Paul used to work as a cameraman for Australian 60 minutes and boy does he have an interesting history. We love the setting of this property which is located 5 kms north of Kaikoura, very private and great for honeymooners. Janet and Paul have been opened since January and they're doing well thank you very much.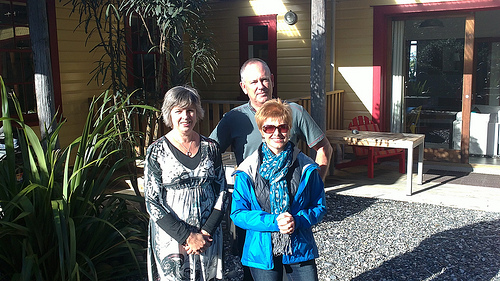 Kaikoura's not all about Whales (there's a Llama Tour can you believe) and Paul is adamant we should stop off at the Ohau Stream. A mere 10 minute walk and what a lovely surprise awaits us. A bush-clad grotto full of the most darling frolicking baby seals. This is their place for fun and games and they're very curious about us..had a chat to one cheeky wee blighter who agreed to be in my photo. What a 'poser'!