The answer to that dear folk is YES, MOST DEFINITELY! The phoenix is rising from the ashes VICTORIOUS OVER ADVERSITY!! (hey I've always wanted to say that). Here's some pictures Michael took last week on a visit to Christchurch for a day. The Garden City has become a temporary 'Container City' until an innovative NEW Garden City returns. See how these containers provide a smart and styly setting for our top-end fashion shops. The containers are centred around Cashel Mall and Merivale and the newly planted shrubs and trees are thriving.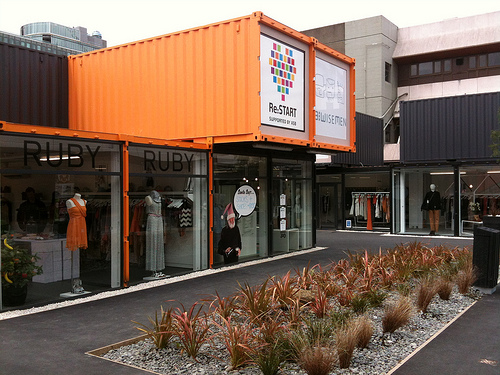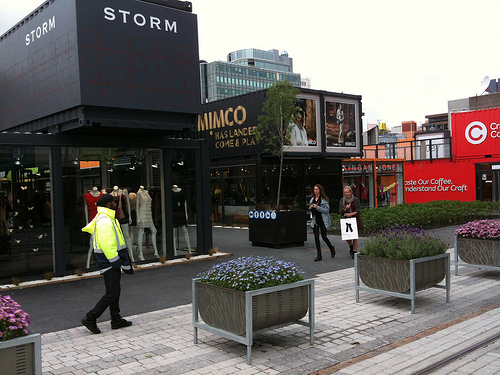 My beloved Ballentynes Department Store has been the saving grace of many frazzled Christchurch females. Michael was impressed with the number of people milling around, looking, shopping, eating…and laughing!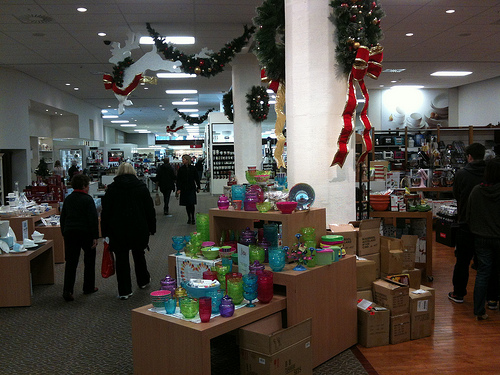 Another curious thing has occurred. Quaint little coffee houses and cafes have sprung up..in the most unlikely of places. Do visit Simo's Deli in Lincoln Road. He's doing a roaring trade. My favourite piece of nostalgia, Strawberry Fare will be re-opening again. In this photo you can see the old Strawberry Fare brick building at the back. I'll be saying hello to the new Strawberry Fare re-opening on Bealey Ave in the former Harpers restaurant site. (note the foreground where rebuilding has already begun)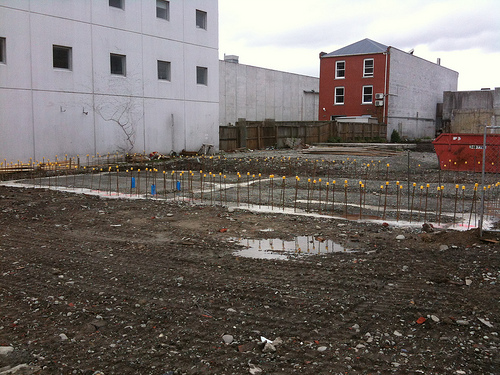 Phil Kraak, owner of the wellknown 'Crumpet Club' has recently opened 'Bamboozle', an oriental fushion restaurant in Sumner. What a cool name and how appropriately it describes my permanent state of mind. So where are the other familar names and places? Dux de Lux has opened a new live music bar — Dux Live — on the corner of Lincoln Rd and Moorhouse Ave.
Sydenham, an area traditionally seen as kind of down-trodden (but in a good way for those folks who live there) is beginning to thrive as a centre for upmarket cafes and shops – hmmm watch those spaces being filled. The Honey Pot Café has re-opened on Colombo Street in Sydenham and others will follow. The Bangalore Polo Club, Belgian Beer Cafe will all return as has Dimitris which has reopened on Mandeville Street in Riccarton. Here's the new Honeypot Cafe: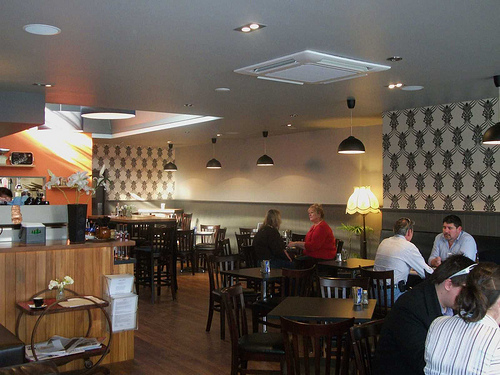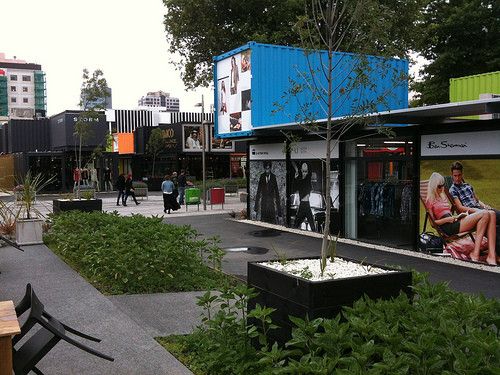 I've seen the film doco "When a City Falls" and shed my tears with a load of sadness. Christchurch is gonna be great again and it won't be long. Not at all.