Congratulations, you've chosen a New Zealand Motorhome company for your holiday in New Zealand and the price looks pretty darn good, (gee, I wonder why?) so you're gonna book it. STOP!! Here are some important questions to consider before making a 'biga mistaka' based purely on price: What's included in the price, e.g. diesel tax, insurance excess? How many depots does the company have throughout New Zealand? Is the motorhome an automatic or a manual? Maybe you're travelling with children – would it be helpful to have a 3-seater at the front in case the kiddies need to be separated for a while? Does the Motorhome company have a good backup service if something goes wrong?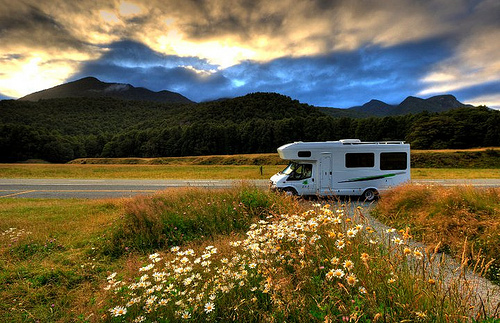 Michael and I are taking a 5-day motorhome adventure to Blenheim/Nelson in June. We've chosen a 6-berth Motorhome by a well known New Zealand company, based on the following criteria: the fleets are new (less then 2 years in use) and their motorhomes are extremely spacious and well equipped – that's important to us. To reduce our risk, we've selected the all-inclusive rental option that includes a full insurance cover, barbie, camp chairs and table, TV, DVD etc – home away from home – sort of. Slight disadvantage, this company has only 2 depots, one in the South Island (Christchurch) and the other in the North (Auckland), but we're ok with that. Would you be? If you're travelling in peak holiday season (around NZ Christmas time), you'll need to book at least 6 months ahead. But remember, only a small deposit is required to secure your motorhome.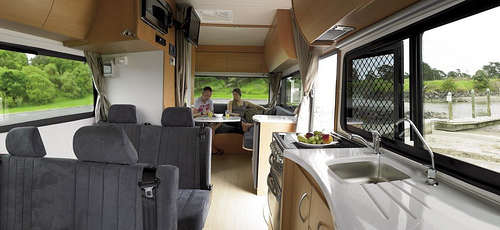 Commonly held misconceptions: here's are a couple of 'biggies': The calculations for MOTORHOMES are totally different to those of RENTAL CARS. RENTAL CARS are calculated on 24 hours e.g. pick up Wednesday 9am – drop off Thursday 9am. This is considered a ONE-DAY rental. BUT, MOTORHOMES are calculated by DAY e.g. pick up Wednesday 9am – drop off Thursday 9am – same timespan as the rental car, but considered a TWO-DAY rental. Some New Zealand motorhome companies have a restricted access policy so if you take that ski access road you won't be covered for an accident. AM I SHOUTING? Sorry dear traveller, it's just that I want you to have a positive New Zealand Motorhome experience. Happy travelling!!