If you want to do the Cape Kidnappers Gannet colony tractor tour, you might want to stay at Te Awanga near Havelock North. Te Awanga Cottages are an ideal choice for couples – they're quite close to where the Gannet tour begins.  In fact, if you stay here, you can actually choose to walk down to the start point of the Cape Kidnappers Gannet colony tractor tour. Another advantage is that you'll only be a mere 20mins drive from Havelock North.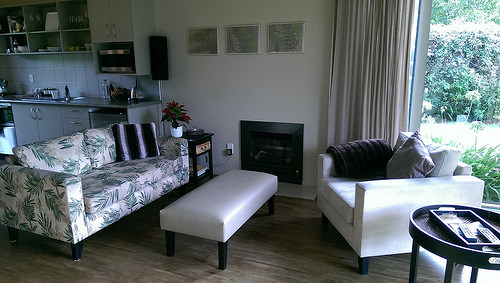 In the Hawkes Bay Region, you'll get a lot of bang for your buck.  The beaches are vast and beautiful. And if you're into cycling, there are some beautiful cycle tracks here. Actually there are quite a sophisticated network of trails to explore.  Of course, most people know about the stunning wine areas that Hawkes Bay is so famous for.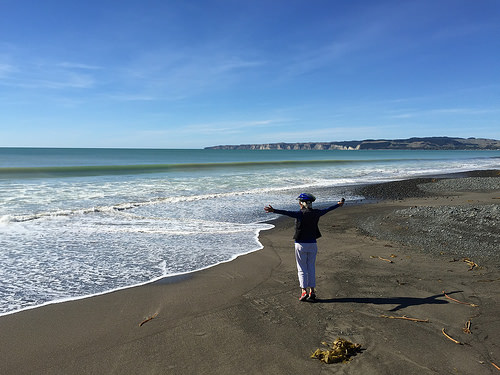 Cape Kidnappers Gannet colony tractor tour – all aboard!
Families should definitely include the Cape Kidnappers Gannet colony tractor tour in their bucket list. The Gannet Beach Adventures company use a very unique way of getting around – bright red tractors! The tractors are able tow a number of open trailers full of excited travellers. It really is so much fun and has become an iconic 'Kiwi' experience for a lot of international visitors.
Tractor ride on the beach
The tour starts at the end of the road at Clifton Bay Point. Now with many of New Zealand's coastal tours, you are dependent upon the schedule of the tides. The tour begins at 11am and it goes for 4 hours. There is a quick briefing by the tour leader and a few amusing 'porkies' are told (little lies).  Now the fun begins.  The tractors head off slowly towards Cape Kidnappers. This is Fun in buckets!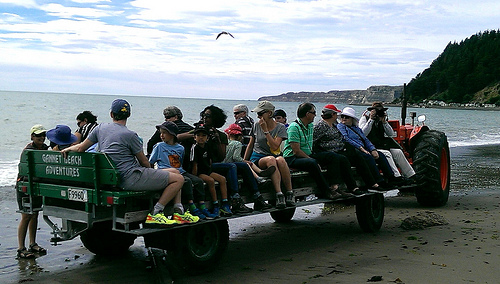 On this particular day, the local beaches had been through a stormy period.  The tractors had to negotiate their way through the more stony ground and avoid deep holes. There were a few exaggerated shrieks from passengers, but all in all it was great entertainment!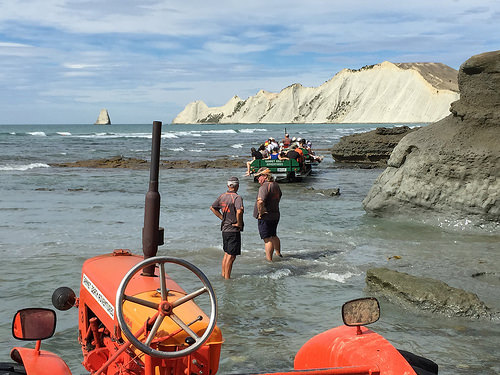 Unique Limestone cliffs on the way
The Gannet tractor tour is a great opportunity to see Mother nature's handiwork. Over millions of years, the cliff faces has developed layer upon layer of limestone. To get the final look, a few earthquakes helped to lift the cliffs out of the ocean.
It probably takes about 1.5 hours to reach the "tractor parking" area near the Cape. At this spot, there is a Doc (Department of Conversation) shelter and fresh water facilities. Do remember to bring your own food for a picnic lunch. You'll probably spend about 1.5 hours here, to explore the area.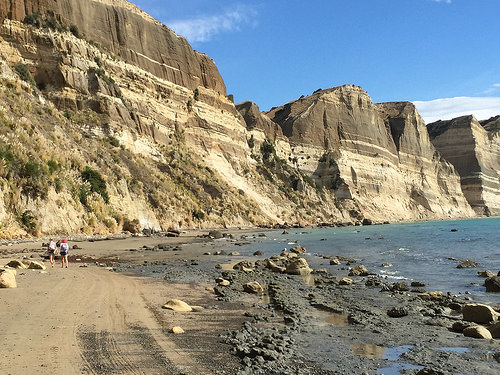 Gannets galore!
The next part of the tour involves a 30 minute one-way walk to the Cape Kidnappers Gannet colony. These lovely birds are incredibly photogenic.  Birdlife photographers love them. I can tell you that on this sunny April day, cameras were at the ready.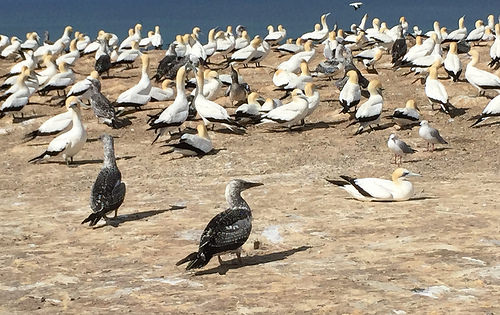 The Gannets are totally unfazed by the presence of humans. It's a heartwarming experience to just quietly sit and watch these lovely creatures. It also gives you time to look around at the environment – at the magnificence of the limestone cliffs and how they contrast  with the soft green of the paddocks below.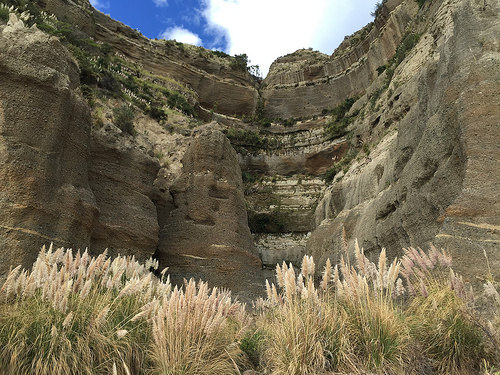 The tour usually returns on the same route it started but you can walk back to Clifton Bay.  If you decide to walk back, be prepared for a 10 kilometre trek. We actually saw a number of walkers choose this option and thought it would be fun to do it ourselves.  It was a lovely, easy walk along the cliffs and we passed gentle rolling surf. At some point you will need to remove your shoes to cross a few shallow streams.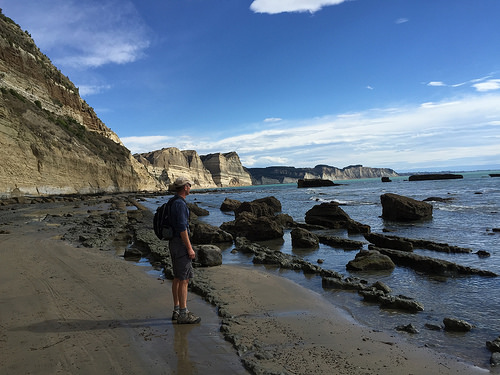 After many years of wanting to do the Cape Kidnappers Gannet colony tour, we were not disappointed. It's refreshing to be so close to nature and an enriching experience. On a warm day, this tour is the ideal way to explore a beautiful part of the Hawkes Bay region.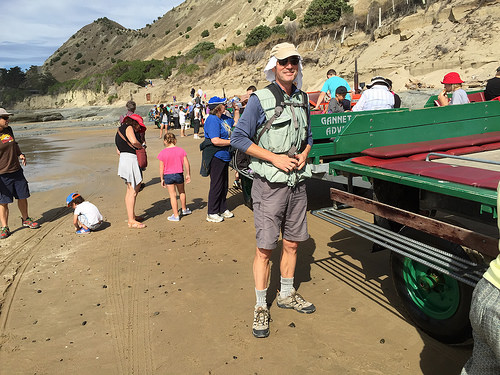 Happy Travelling on the Cape Kidnappers Gannet colony tractor tour!