"Let's do the Cable Bay Walk" Michael said. "Ok" I said and it was a done deal. So I'm trying to keep traction on this steep hill climb, remembering what I said and marvelling at my dumb acceptance. Why didn't I pose a few pertinent questions like "what grade is this walk"? and "will there be a lot of climbing"?.
It all starts out with a hiss & a roar though. Just 12km north of Nelson we're arrived at The Glen and the view looking out to sea is stunning. Unlike some of the water around the Tasman area which is more greeny turquoise, this is the deepest hue of blue.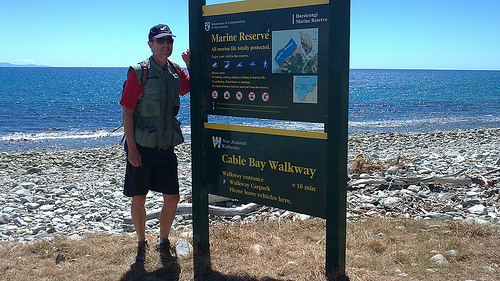 It's a sunny day with a refreshing cool wind. "Great day for it" Michael's eyes gleam with the look of a mad zealot. We're doing the Glen Loop, only a 4km, 2-hr easy peasy walk. Never have I felt so at one with the world.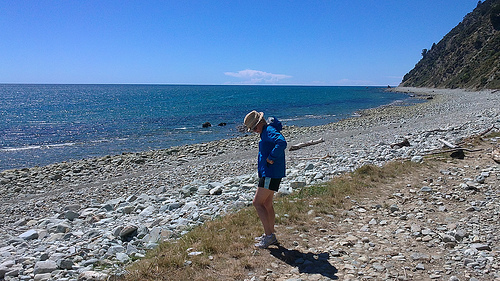 After leaving the carpark we stroll along a country road. The cicadas are singing and the bellbirds hitting the high 'C's'. We arrive at the start of the track where an old red tin barn is conveniently located for a photograph. Michael loves this bit of Kiwiana. We both stop to whip out the camera. Ok, this is probably a meaningless exercise to some, but one day these old barns will be gone. Forever.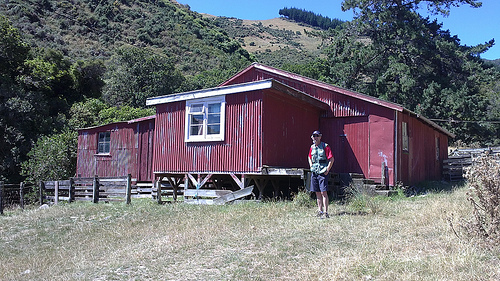 The walk begins – well more like the 'climb' really but it will even out. They always do.. More photos are taken along the way then the camera gets put away cos it looks as though this climb may last a while. The track gets even steeper so so we dig in, committed to making good time and earning a rest on one of those nice park benches. Finally I pause to take a look over my shoulder at this: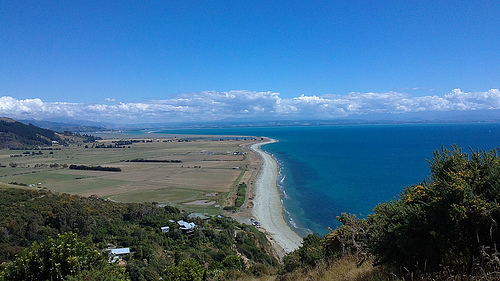 …so we're resting on a park bench to admire a Harrier swooping overhead – gorgeous bird. Too soon it's time to move on. The climb continues…on and on it goes. Just when it seems as though we've reached a plateau, another marker higher up indicates an even steeper ascent. How did we miss the sign that said "MOON: another 384,403 Kms"? The Harrier is back, no longer a creature of beauty but an opportunist waiting for the right moment! Oh Lord, can it hear me wheezing? Finally, another signpost indicating the beginning of the descent. I give thanks: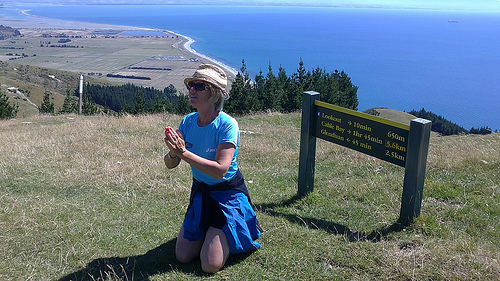 Happy thoughts are back again! The descent is wonderful. We come across fearless lifestock – mildly offended that we humans have interrupted their day. No need to though, they're curious animals but not mean. Doncha just love this little goat lurking in the undergrowth: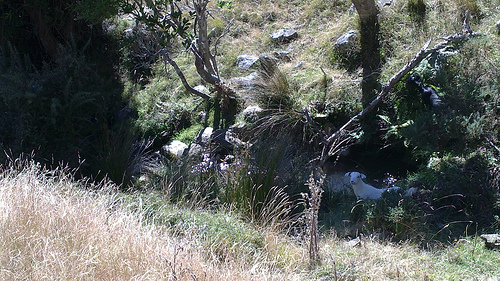 Although I've whinged a bit, don't let that put you off. Remember you MUST have a good level of fitness for this one. Start the climbing part of the loop first and take stops on the way to enjoy the beauty. My hips are killing me and I'm a little surprised to see Michael rubbing his own rump – seems we're ALL getting on a bit. Time to pop the cork, kick back and watch the frost forming on the glass!