Just visited Mel co-owner of Mountain Range Lodge. Not the most convenient of times for her as they're right in the middle of renovating part of the lodge but that's good news for travellers. The passion's still there. This visit is easy for us, as it's merely touching base with operators we've known for years. The garden has grown nicely to give more privacy between suite bedrooms – love at first sight for the brand new Cape Cod chairs reclining outside each suite. Doesn't take Michael long to make himself comfortable while I'm left to fumble my way around the new smart phone which doesn't reflect the intelligence level of it's current owner. Hey, I'm getting there. Doesn't Michael look comfy!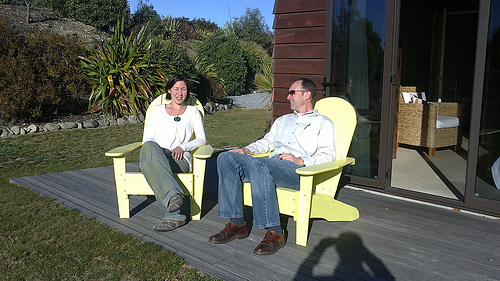 Met Stephanie and her Partner, Denis, the owners of Tiritiri luxury Lodge which lies on the eastern all-day-sun side of Wanaka. The door was opened with a flourish and an enthusiastic welcome by Stephanie, so we're immediately reassured that OUR future guests will be treated the same way. The first 30 seconds are crucial – get the welcome right and everything else will flow. Lovely elegant architecture and we liked it. This is such a lovely place to be (gosh I love my job!) and an additional block, separate from the main building for families. My personal fav, the contemporary black leather chaise longue in each suite which Michael, showing remarkable restraint, managed to resist. Served the most delicious lemon cupcakes and had a great chat with Stephanie, who as it turns out is quite an accomplished lady and she speaks fluent German (tick another box)..oh, and let's not forget the baby grand in the large atrium. Denis is quite a musician. Have to mention Tiritiri's in-house chef Tiffany Firth – envious of that massive commercial kitchen – rare sight for a boutique lodge. As we left in our car, Michael and I looked at each other – no words needed – we'd found the perfect match.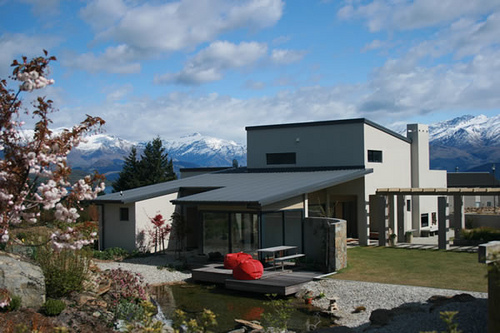 Our next stop, Skydive Wanaka. Get ready to be bored Pam. Yes, that's what I thought, but at the end of hour we spent with Jools, Co-owner of Skydive Wanaka, I was almost on the verge of taking that tandem jump! Yes I was!! Jools managed to convince me (if you like the ultimate adrenaline rush, you can't my friend – actually I'm kidding, but you get the picture of where I sit on all things adventurous, unlike my darling husband who loves being in constant fear of losing his life) This must be one of the smartest and sophisticated adventure companies we've visited. Their safety record is meticulous and unblemished since it's inception in 1995. Jools spent a lot of time with us going through each detail – boy is she a stickler for detail – they all are, just ask Jeremy the Parachute Packer who refused to be distracted and only agreed to have his photo taken after he'd finished the parachute he was actually working on – All stages of the operation are carefully thought out and there are some very nice surprises for those who take 'jump'. By the way, Michael had NO involvement whatsoever in packing this parachute!!