Sprung out of bed today and that's when the 'spring' became a 'crunch' – I'd forgotten about my Achilles Heel injury. So I limp to the window and view a cloudless sky – ahh, the perfect day to visit an outdoor Art Show at the beautiful Queens Garden in Nelson City. Off we biked for the 12km ride from Richmond, but not before the usual false starts: "have you checked the doors"?, "Did you turn the lights off"? Several re-entries into the house and my nerves are frayed. Finally we're back in the saddle, hurtling down the bike track that will take us to Nelson. On arrival, we discover the Art show is located in a beautifull leafy grotto within the magnificent Queens garden – a perfect blend of light and shade beside a bubbling brook. Michael wanted to take a photo of me and a cute little pig and what does that tell ya?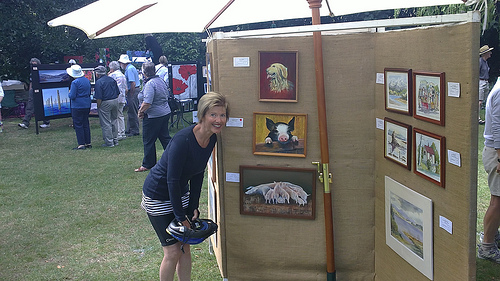 There's nothing elitist here. It's kinda typical of these smaller exhibitions that everyone is free to mingle, chat and view the art without being pressured into buying. So much talent from people of all ages- people like 83 year old Fergus McEwan, a retired farmer who has found woodworking a great way to occupy his time. He makes beautiful solid wooden toys for kids (and adults) and I just love his adorable "My Treasures" Rimu Boxes. And hopefully you can get a glimpse of Judy Brown's beautiful outdoor mosaic mirrors in the background of this photo.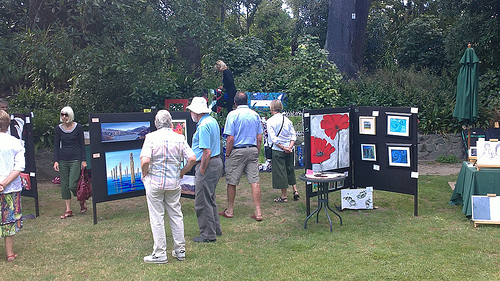 The artists are also having a great time and believe me, they love a good chat. Being the sociable beast that I am, I'm loving the sheer pleasure of yakking it up with the locals. New Zealand's Art scene really 'hums' in the Summer months and it's such a great affordable gift option for travellers wanting to take something special to the folks back home – something real and authentic. Here's me enjoying the sights.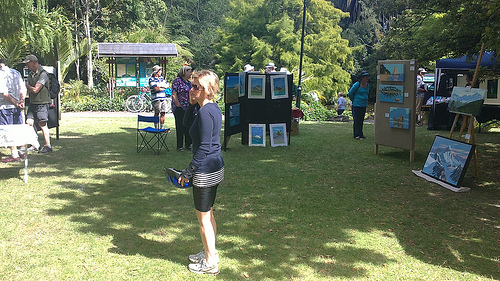 The bike home wasn't quite the energetic burst I'd planned, but isn't it a great feeling to know that you've done something fabulous with your day. Time to get the icepack on that blasted heel!