Steve and Jeanette of luxury boutique Arrowtown House know that we're celebrating a special Wedding Anniversary.  On arrival at our suite, here's what greeted us. Kinda special they acknowledged our personal celebration in such a thoughtful & generous way. Can't wait to light those vanilla & butterscotch candles. Hmmm..wonder if they have aphrodisiac qualities?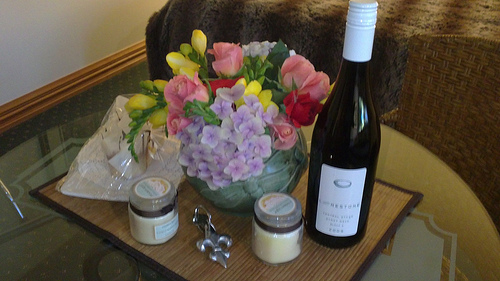 The owners of Arrowtown House have taken 'drinks & nibbles' to a new level.  Puff pastry canapes, smoked salmon on mini pikelets and ..ta da…crumbed scallops served on elegant spoons.  Judging by the 3-course sumptuous breakfast served the following morning, it was clear that our gym membership can never lapse.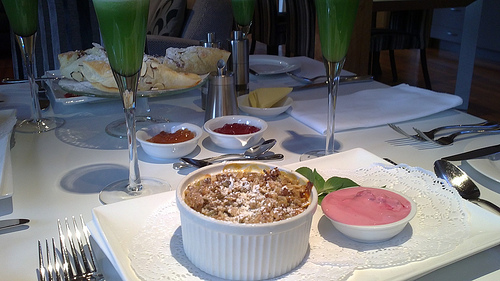 After brekkie, Michael keeps appontments (business owners never really stop working) and I go exploring Arrowtown's Autumn Festival.  The main street is buzzing, a stage has been set up and a group of pretty girls are doing the Can Can.  Trying to get a risque shot of shapely young legs is a challenge cos I'm competing with a couple of Asian ladies who quickly elbow me into an oncoming car. The car screeches to a halt, I slouch back onto the pavement and get my shot.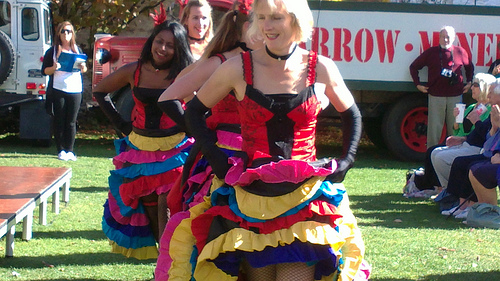 Arrowtown is full of alleyways stretching back into dining areas, interesting shops and great food options.
Gorged outselves once again on a superb 3-course breakfast.  Waddled back to our suite to pack – why are we accumulating so much stuff – where has it all come from?