It's the sight of bronzed, young bodies that plants a seed of doubt. How's my upper body strength? The Abel Tasman Kayak staff look disgustingly fit. Paul gives us a brief rundown of the afternoon. He's a nuggety little guy with large hands and muscular arms – does he wrestle sheep in his spare time? He takes us by van to the water taxi at Marehau Beach from where it's towed by tractor out into deeper water. It's a weird and wonderful sight to see all these tractors churning back and forth through such unusual pasture. Ok, there's a bit of mucking around before this happens and some of the Brits in our group get a little tetchy. Just try to remember the "she'll-be-right" mantra we Kiwis hold so dear.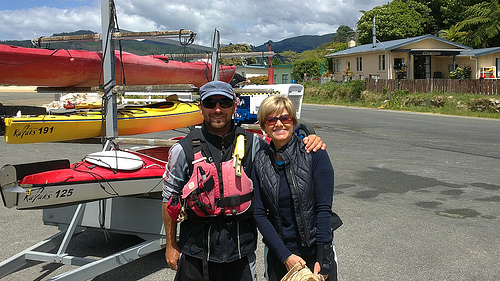 There are so many beautiful golden beaches dotted around the Abel Tasman region so I don't mind wading through the last few metres of shallow water to the shore – gives me a chance to drink in the views (pardon the metaphor). Our tour guide, Gloria, is waiting on the beach to greet us. Gloria's a stunning bronzed beauty and sooo nice. There's a bit of a kerfuffle as she sorts out our lunch pack. "Who's the gluten-free"? "Whose the vegetarian"? and "Whose the normal"? It's all quite stressful to watch until a relieved Gloria spies a box still unpacked. The gluten-free lunch I requested is very nice, a couple of filled egg rolls, a gluten free almond slice and lovely crunchy apples.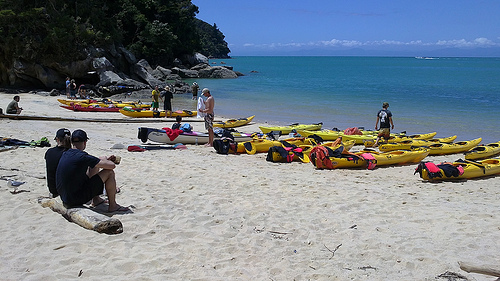 At lunch we get to know our little group – a couple and one other young woman with a lovely accent- all Brits and rather nice. Horrors, they're displaying an alarming amount of bare flesh. Haven't they heard about the sun's power 'downunder'? We're supplied with our lifejacket 'skirts'. Yep, it's an all-in-one contraption involving a lifejacket hanging from a pair of braces which then fans out into a skirt shape below. It's the skirt bit that you tuck around your seat in the Kayak to prevent you from getting too wet. Hey look at me! I've always wanted to dress up as a toilet. How very cool. Bet no one's thought of that before…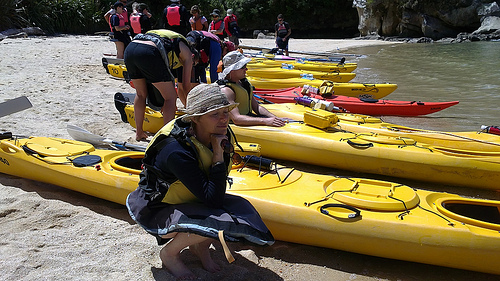 Michael's paying strict attention to Gloria's safety lecture. It's understood he'll be responsible for putting any emergency procedure into action if the worse happens. As always, I don't retain.. any of it, although I can be relied upon to look after the remnants of lunch.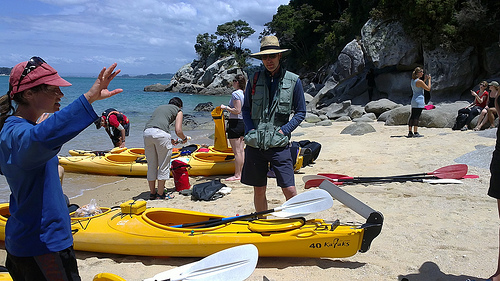 Gloria pushes us into the surf and suddenly we're gliding through water the colour of turquoise. We float from shore very quickly and I'm grateful to have a tailwind. It's all strangely calming with just the gentle lap of water against the kayak and soothing birdsong. This is the habitat of the 'others' – birds and creatures seemingly oblivious to our presence. We're mesmerised by the sight of Shearers, plunging vertically into the water to catch their fish-of-the-day. The cutest little blue penguin backstrokes by. Most of us only see these scenes in books or video and to actually be in the actual scene, it's pure magic!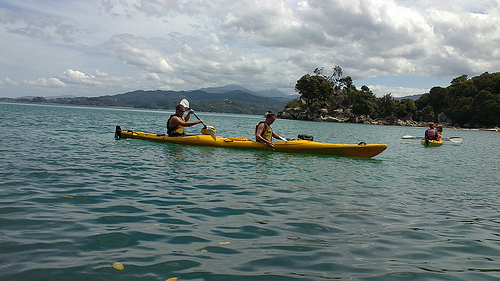 Gloria keeps vigilence. Who's lagging behind? Is everyone ok? I'm tiring, so Michael doggedly paddles for both of us. Gloria yells "are you guys taking turns"? Is she making a point? Has she observed my lack of team spirit? I mumble something incoherent and start paddling again. Now and then we paddle through beautiful narrow channels with overhanging rock sculptures and plants. Ahhh, the sounds of silence. Note the rock I'm about to avoid a couple of seconds after this photo was taken, a stunning piece of evasive action.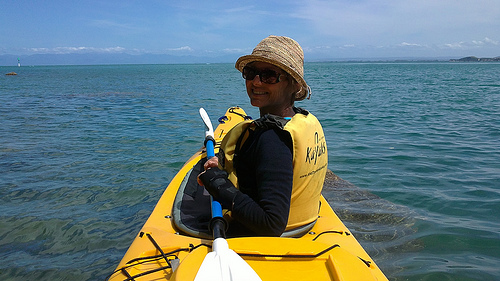 In this photo you can see quite clearly the little water-proof security box for cellphone and wallets. Sits very tightly under strong elastic cords on top of the kayak, within easy access for photo-shoots. How I managed to take this photo and still remain upright, will remain a mystery. These kayaks are very sturdy.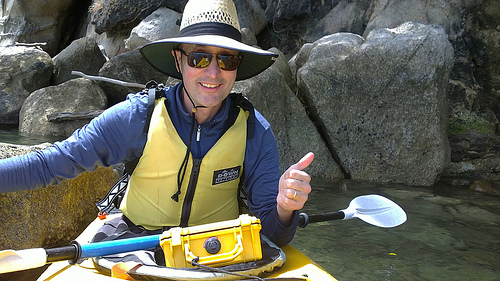 I can see Marehau Beach ahead. Twenty minutes go by and it doesn't seem to be getting any closer, although I note that the houses on the hill are looking more defined. Have we got a bit wet? Yep, but it's not enough to make us feel uncomfortable and there are sponges at the front to wipe the excess water pooling around our 'skirts'.
One minute you're floating through unfathomable depths and the next you're in the shallows. Honestly, it happens that fast. I'm thankful to see the Abel Tasman Kayaks van waiting to pick us up. Good timekeeping at the right end guys. We're requested to rinse our own lifejackets and assist with lifting the kayaks into their racks. We don't mind at all. When you've become part of a team, it's all part of the experience and only takes a few minutes. Just remember to bend at the knees.